The Brazos Watermaster Program office officially opened June 1, with Molly Mohler serving as the first watermaster for the Brazos. She has nine years of experience in managing the Concho River in West Texas, according to the Texas Commission on Environmental Quality (TCEQ), which oversees the program.
In 2013, holders of water rights in the Brazos River Basin petitioned TCEQ's commissioners to appoint a watermaster to monitor, regulate and control withdrawals of water from the basin, according to TCEQ. Following a hearing at the State Office of Administrative Hearings, the commission directed the executive director to appoint a watermaster over the middle and lower Brazos River Basin, affecting water rights holders in the portion of the basin from Possum Kingdom Lake to the Gulf Coast.
The commission officially established the program on April 21, 2014. That fall, TCEQ conducted public meetings throughout the basin to answer questions and educate water rights holders on the new watermaster program, according to TCEQ.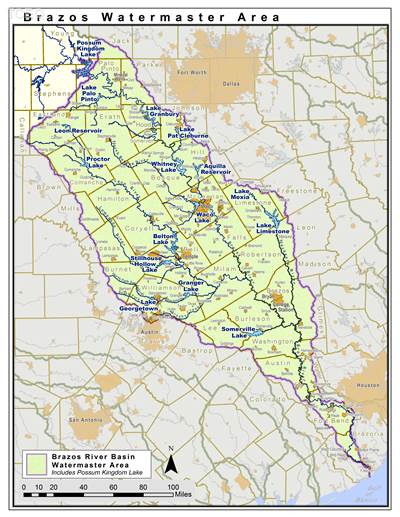 Nominations were sought for service on the Brazos Watermaster Advisory Committee at these meetings. The committee's 15 members were appointed in March 2015. Their duties include making recommendations about water administration and distribution, and reviewing and commenting on the annual operating budget. The committee can bring issues forward from water rights holders for discussion and consideration by the watermaster or the executive director.
 "Water in the Concho is diverted primarily for agricultural and municipal uses," Mohler said. "Here in the Brazos you have so many more industries and different uses for water."
Mohler visits various industries and water rights holders within the basin to better understand their processes and water uses, she said.
"If we discover there are times where they may need more water than is available, we can work with them to identify alternative sources, before there is a crisis," Mohler said. "Good contingency planning, coupled with conservation, is in the best interest of all water rights holders in the basin."
Visit the Brazos Watermaster Program for more information.
Information in this article is from the August issue of TCEQ's Natural Outlook newsletter. Read the full article for more information.