On any given day one might find Lucas Gregory monitoring water quality in the field, analyzing data or writing grants and publications. "There's really never a dull moment, and that's one of the things that I like about working here," said Gregory, Texas Water Resources Institute (TWRI) project specialist and quality assurance officer.
Gregory began working at TWRI in 2006 after he earned his master's in water management and hydrological sciences and bachelor's in agricultural systems management, both from Texas A&M University.
Gregory served as the project coordinator for the Center for Invasive Species' Caddo Lake Giant Salvinia Eradication Project, which set out to use weevils to control giant salvinia, an invasive aquatic plant originally from South America, in the lake. Reflecting on what was learned from the project, he said, "The real finding is that there is a huge need for a local source of weevils to replenish weevil populations on the lake annually."
Gregory is optimistic that this need will be met. The project's outreach component led to a grassroots effort to construct a new weevil-rearing facility on the bank of Caddo Lake in August 2014, he said. "This transfer of knowledge from the project team to local stakeholders was a great success for the project and only one of many positive outcomes."
Currently, Gregory coordinates the Carters Creek Stream Team, a volunteer water quality monitoring effort that includes students from Texas A&M University and members of the Brazos Valley chapter of Texas Master Naturalist. The stream team gives participants a chance to learn about water quality monitoring techniques, gain monitoring experience and helps stakeholders develop a better understanding of local water quality, Gregory said. "It's really a win-win for everybody."
Having the local stream team has allowed water quality data collection on Carters Creek to increase, from two sites monitored quarterly to 14 sites monitored monthly, Gregory said.
Gregory emphasized the importance of monitoring as the first step to ensuring water quality. Monitoring enables the development of a targeted approach, he said. "Before you can improve water quality you've got to have a good idea of what is going on out there."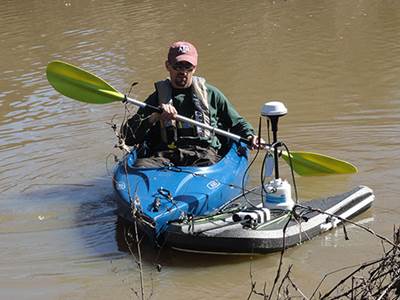 Writing and coordinating watershed protection plans (WPPs) is another one of Gregory's accomplishments. A WPP is a voluntary plan that helps improve water quality in an impaired watershed. Gregory has authored three WWPs and is currently developing a fourth. 
"They're not something you can do at your desk," he said. "You've got to work with stakeholders, talk to them about the issues, discuss solutions to manage those issues and then translate that into a cohesive document that meets the needs of the funding agencies down the line."
Gregory is also working on a doctorate in water management and hydrological sciences at Texas A&M. His research focuses on bacterial fate and transport, specifically understanding how bacteria behave in streams, sediments and soils. The knowledge gained from his research will inform management decisions that address bacteria-related water quality issues, he said.
Gregory said his research stemmed from stakeholders' questions regarding the fate of bacteria in the environment. He hopes that his research will answer some of those questions. "At the end of the day we'll have some good information that we can relay back to those watershed stakeholders," he said.
For more information on the Carters Creek Stream Team, see this August 2014 Conservation Matters article or visit its web page.