What could you learn at a training for Agricultural Best Management Practices for Watershed Planning?
This event, hosted by the Texas Water Resources Institute (TWRI) on April 3, is part of TWRI's Texas Watershed Planning Program, a program designed for people interested in or responsible for watershed protection and restoration, including employees and volunteers with federal, state, county and local agencies; soil and water conservation districts; universities; consulting firms; nongovernmental organizations; and watershed groups.
The training, located at the Riesel Lion's Club, also included a tour of the U.S. Department of Agriculture's Agricultural Research Service Grassland Research Laboratory in Riesel. The Riesel Research Center Lab is an 840-acre experimental watershed facility established in 1937.
At the workshop, Dr. Lucas Gregory, TWRI senior research scientist, shared information about agricultural management practices and how they relate to water quality.
Some of the suggested agricultural best management practices include using portable shades for cattle to manage water quality.
"In the summertime, it gets hot, and cows need shade to cool off. A lot of times, they're relying on a pond or creek for water to cool off if there aren't any trees around," Gregory said. "Mobile shade structures can be used to draw cattle away from a watering source to manage water quality."
Nathan Glavy, TWRI program specialist, said agricultural best management practices are measures that help reduce the volume and pollutant load carried by surface stormwater runoff into rivers and lakes.
"Agriculture stakeholders can help improve water quality with different types of foraging, tilling and grazing techniques," Glavy said.
One of the techniques demonstrated at the workshop was a no-till planter.
Gregory said the no-till seed drill is a minimalistic way to plant a seed without breaking up the soil. "It cuts a little groove, plants a seed and rolls it back together all in one fell swoop without tilling up the rest of the soil," Gregory said. "Conventional tillage takes away all of the vegetation cover, leaving nothing but bare soil on the top, which is fine for planting but not so good for water quality."  
At the end of the workshop, Gregory dug up some soil for the participants to inspect and described the benefits of the earthworms and root structures. "These are heavy clay soils. They don't move a lot of water without these root channels and earthworm burrows," he said, comparing the roots to veins.
"Promoting the development of soil in a more natural way is what the soil health movement is about," Gregory said. "Those roots have been there a long time already establishing those channels for water movement."
Gregory said there are a lot of best management practices included in watershed protection plans that can help protect the water quality coming off farming and grazing landscapes.
"Watershed protection plans not only protect water quality but also help producers better manage their resources and perhaps make their operation more profitable," Gregory said.
The Texas Watershed Planning Program is funded through a Clean Water Act nonpoint source grant provided by the Texas State Soil and Water Conservation Board and U.S. Environmental Protection Agency.
Dr. Lucas Gregory, TWRI senior research scientist welcomes attendees at the Riesel Lion's Club.
Ed Rhodes
1 of 11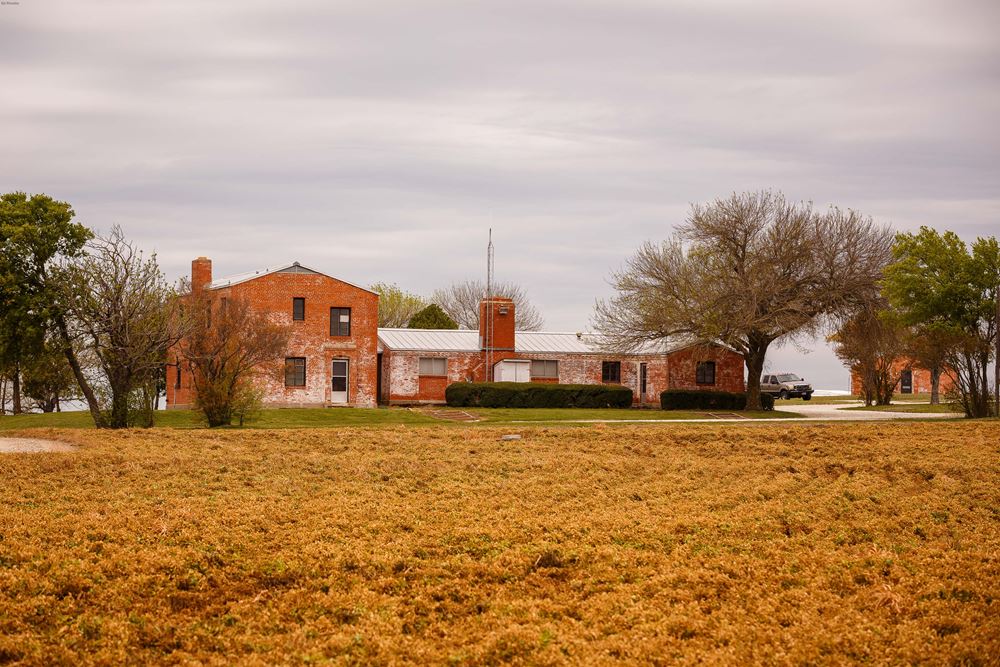 The Riesel Research Center Lab was built by the Civilian Conservation Corps in the 1930s.
Ed Rhodes
2 of 11

The Natural Resources Conservation Service SCAN (soil climate analysis network) station on the prairie site collects weather and soil moisture data, and is part of a nationwide network of sensors.
Ed Rhodes
3 of 11

Using portable shade for cattle like the one shown above is a best management practice that helps with managing water quality.
Ed Rhodes
4 of 11

In this native tallgrass prairie plot in the Riesel watershed, the dominant grass is Little Bluestem (Schizachyrium scoparium). To the USDA's knowledge, the sod in this pasture has never been broken by a plow, meaning that it is a true native, pre-European prairie sod.
Ed Rhodes
5 of 11

The workshop demonstrated a no-till planter planting corn in an Austrian winterpea field.
Ed Rhodes
6 of 11

The no-till planter plants corn in an Austrian winterpea field.
Ed Rhodes
7 of 11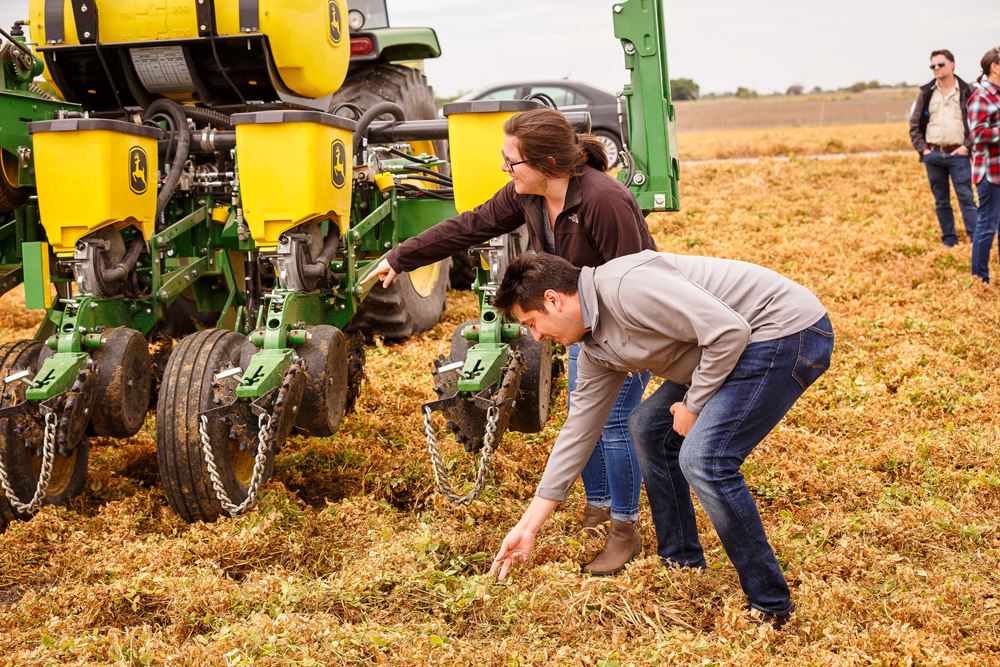 Emily Monroe and Nathan Glavy, TWRI Extension program specialists, examine the no-till planter.
Ed Rhodes
8 of 11

Corn kernels are planted in the ground with a no-till planter.
Ed Rhodes
9 of 11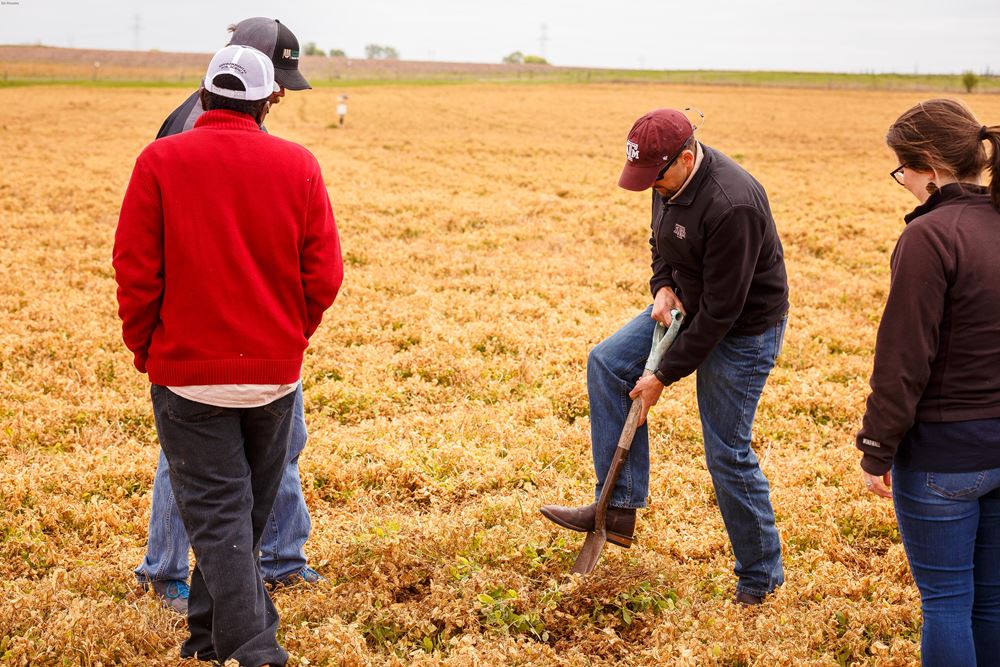 Dr. Lucas Gregory, TWRI senior research scientist, digs up Austrian winterpea to inspect mycorrhizal root nodes.
Ed Rhodes
10 of 11

Mycorrhizal root nodes (white lumps) are important water channels for soil moisture infiltration in heavy clay soils.
Ed Rhodes
11 of 11