Virender Sharma, Ph.D., wants to solve environmental problems by starting with some of the smallest pieces of the puzzle: molecules. 
Sharma's career has been shaped by mentors, hard work and a few lucky breaks. He now works in the Texas A&M School of Public Health as an environmental chemist. 
He began his education in India, receiving his undergraduate degree and a master's degree from the University of Delhi, and another master's degree from the Indian Institute of Technology, Delhi. All of his degrees were in chemistry and related fields. Sharma's fascination with chemistry came from his high school chemistry teacher.
"He was so good at explaining topics clearly in a way that got me hooked on chemistry," Sharma said.
This teacher laid the foundation for Sharma's career in the field. He took courses from this teacher for three years during high school and the two remained in touch until the end of his teacher's life a few years ago.
"I was lucky enough to visit him a few months before he passed away; he was the biggest motivator of my life," Sharma said.
Sharma came to the United States in 1985 after meeting a researcher at an international scientific conference who invited Sharma to join a research group based in Miami, Florida.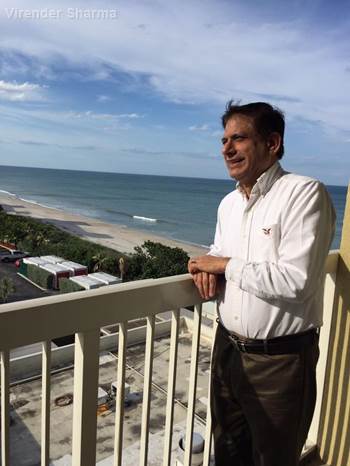 "Let me tell you about how hard my life was there," Sharma said half-jokingly. "The lab was located right between the ocean and the aquarium." This was his first experience seeing the ocean. In Miami, he was working toward getting his doctorate in ocean chemistry from the Rosenstiel School of Marine and Atmospheric Sciences at the University of Miami.  
Even though it could be distracting at times, Sharma enjoyed working so close to the beach. "Walking on the beach is one of my favorite things to do," he said, "so I try to stay as close to the beach as I can whenever I move."
Distractions didn't keep Sharma from doing what he set out to do, however. During his time in Miami, he got into the habit of publishing scientific research papers. He published nine research papers during his four years there. "My boss was really nice to me because of this, so I knew I was onto something," he said. 
After completing his doctorate, Sharma headed north to work as a post-doc at the Center of Biosurfaces at State University of New York at Buffalo. There, he grew interested in teaching and began instructing a few classes, which made his long days even longer. "Now I think I was crazy because I used to walk home in the dark at 11 p.m. in freezing weather," he reflected.
Like any aspiring researcher, Sharma kept up to date with prominent news and people in the chemistry field. This helped him make his next career move.
"There was a chemist at Brookhaven National Lab who was at the top of the field in research about a superoxide molecule that I really wanted to study, so I knew I had to get there," he said. 
The researcher who Sharma was interested in working with was Benon H.J. Bielski, Ph.D. When Sharma initially reached out to Bielski to express interest in working in his lab group, there wasn't a spot available. "I just kept writing him and showing my interest," Sharma said.
Eventually, Bielski's lab group received National Institutes of Health funding for a research associate position and Sharma landed the job. "Sometimes in life, you get lucky breaks, and I think this was definitely one of them," Sharma said.
Bielski became another lifelong mentor to Sharma. "He was a great researcher and he changed my life and the way I approach research," Sharma said.
Sharma was excited to begin working in Brookhaven because of its reputation as a prestigious research center. When he arrived at the lab to start his new position, he realized the job would be different than he expected.
"They had already moved onto a new project, so I never got to study the molecule I was interested in at that point," Sharma said.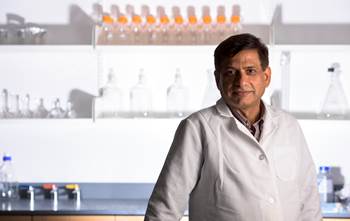 This actually worked out in his favor. At Brookhaven, Sharma studied how oxidized iron, called ferrate, interacts with the body. It is a reactive oxygen species, which react in the body and are destructive to cells.
"This was a turning point for my research," said Sharma. He combined the knowledge he had gained from all of his research experience and posed the question, "If this highly reactive and destructive molecule can destroy cells, could it also destroy pollution?"
He has been working on answering this question ever since. 
Sharma's first academic job was at Texas A&M University-Corpus Christi. This job was tough for him because his main role was teaching, not research. "At my core, I am a researcher, and at this job, I didn't have a lot of opportunities to explore that." 
When a position opened at the Florida Institute of Technology in Melbourne that would offer him more research hours, Sharma jumped at the opportunity. During his first year there, he received anonymous funds to support the research in his lab. He used these funds to create an endowment in his father's name.
Here, he also took on a new project: writing a book. He wrote the book in honor of his mother, who passed away while Sharma was working at the institute.
"At the end of her life, she had lost a lot of proteins, so writing this book helped me understand what happened," Sharma said. The book is titled "Oxidation of amino acids, peptides, and proteins: Kinetics and mechanism" and was published by Wiley in 2012. Sharma donated all the money he made from the book to create an endowment in his mother's name.
Sharma named the two endowments in honor of his parents because, "they inspired the motto of my life which is hard work, honesty and integrity" he said. His parents also emphasized the value of education.
The mental and physical stress of completing a book began to wear on Sharma. He treated this by starting to practice yoga and has continued to do so every day since then.
After spending 13 years in Florida, Sharma returned to Texas A&M, this time in College Station.
"My research really took off here," he said. Since arriving at College Station in January 2014, he has published 185 peer-reviewed research papers in seven years — averaging 26 publications per year since his arrival. Also, he said that his collaboration with other researchers has skyrocketed.
Sharma has ambitious plans for the future and is optimistic about the legacy of his research. "I want to be able to solve whatever environmental problems that come up," he said. To do this, Sharma said he will spend the next ten years figuring out how to apply ferrate to fix these issues.
"Studying ferrate has become my passion, so I want to apply it in ways that will help the public," he said. Some examples of this include improving human health, water quality and environmental toxins.
Outside of research, Sharma enjoys traveling and visiting botanical gardens. He can't pick a favorite, reasoning "there is no best garden because they are all so different; I feel like it gives me insight into how people in that region think about things."