Saurav Kumar, Ph.D., always knew he would go into science, engineering and computing. There was no question.
"My dad was an electronic engineer/scientist. Seeing him was inspirational, and generally, there was a love for science in my household," he said.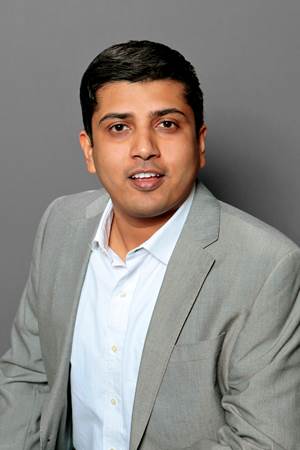 Now an assistant professor in the Texas A&M University Department of Biological and Agricultural Engineering and a water specialist at the Texas A&M AgriLife Research Center at El Paso, Kumar described his childhood as also being steeped in a zeal for coding and computing.
"I don't know what got me excited about it because I've always been excited about it," he said. "And, generally, everyone around me did code too. My dad used to code and tinker around with everything, and I've been helping him out with everything too."
Once he started writing computer code, Kumar said he was hooked. He explained his first real working program was a copy of the Tetris game he made for a high school class.
"I suppose it was the gratification that you get when your code runs really smoothly without waiting for hours that got me into writing code," he said.
To add to the excitement for a job well done, Kumar explained he has a love of the instant gratification that comes with coding. This was particularly true in his undergraduate work at Delhi Technological University (formerly Delhi College of Engineering) in New Delhi, India where his coding experience dovetailed into scientific modeling.
"Most people in the environmental engineering department, at least as I remember it, were about chemistry and biology," he said. "Developing a real model or a chemistry experiment or something like that will take days or months or even years to get some results that might show something interesting. But, with computer codes, you can get results very fast."
Today Kumar is a water systems modeler. He gathers vast amounts of numerical data, then creates models to convert that data into a self-correcting tool that can help predict how a water system might behave under certain situations.
"Most importantly, I try to develop system models, specifically water system models, that can condense data and output something interesting for decision makers," he explained. "That's my big picture."
And he is increasingly using high-tech tools — drones, satellite-level high perspective imaging and artificial intelligence — to get that big picture. However, when it came to water, he did not always see what was right in front of him. Or under him.
"I studied environmental engineering at Delhi College of Engineering, which is on the west side of New Delhi, but I was from the east side. The east and west sides of the city are essentially divided by the Yamuna River, so I had to cross it every day when I went to university," he said.
"I crossed the river every day, but I never really noticed how polluted it was. It is one of the most polluted rivers in the world."
It wasn't until after Kumar graduated in 2004 and left the area for his master's degree with the Singapore-Stanford Partnership Program of Nanyang Technological University in Singapore and Stanford University that he really started to see water systems issues and get interested. While working in his environmental science and engineering program, he was introduced to the San Francisco Bay, which he described as the first big water body someone ever discussed with him. He also worked on the Kranji Reservoir in Singapore, where he found that his modeling knowledge could be applied to water bodies.
Kumar said there was not a sudden "Ah-Ha!" moment in his interest in water systems. Instead, he gradually grew into it as he had opportunities to work with them and found his skill set was useful to water issues. That made him look back on things differently.
"The Yamuna did not make a big impact on my life, but it should have. It was right under my nose growing up and I really didn't see it," he said.
Kumar spent some time working in Singapore after he graduated from his master's program in 2005. He later began his doctorate of civil engineering at Virginia Tech where he worked on the Occoquan Reservoir just southwest of Washington, D.C.
"This all has allowed me to work on the bigger picture; how end users use water and also how remote sensing through satellite and aerial imaging can really be used to close some of the data gaps we have," he said.
This big water picture increasingly includes remote sensing technology and big data as far as Kumar can see, and that keeps him excited about it. Getting to use cutting-edge technology doesn't hurt either.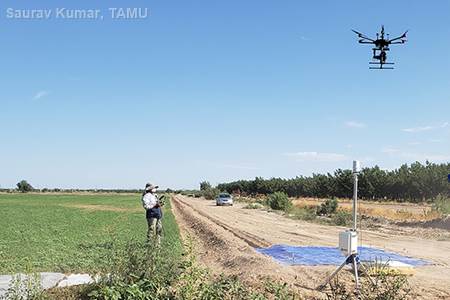 "I get to fly drones, work with new fancy cameras and anything you can think of with technology, and I think, 'Can I use this with my research?" he said. "I'm hoping that it will always be like this where I can always find something new to add to my data collection for the numerical models. That's what keeps me excited about this."
More and better ways to collect data generally means more data — a lot more.
"We need to train a whole set of natural resource engineers or agricultural engineers to be able to handle and not be scared of the data," Kumar said, adding that figuring out why remote sensing hasn't been more widely adopted in water quality monitoring and agricultural modeling is one area of his growing curiosities. This is a challenge he hopes to tackle in the future.
"I'm hoping that someday I can make at least a small contribution in improving the quality of water modeling and remote sensing use in water modeling."