Texas A&M University's Ron Lacewell, Ph.D., and Utah State University's Mac McKee, Ph.D., are the 2021 recipients of the Universities Council on Water Resources (UCOWR) Warren A. Hall Medal for lifetime achievement in water resources. This is the first time in the award's history that it has been jointly awarded. Lacewell and McKee were both nominated by the Texas Water Resources Institute (TWRI), a unit of Texas A&M AgriLife.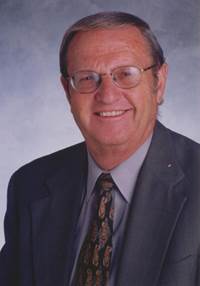 Lacewell — a retired professor in water resources economics at Texas A&M — called the award an incredible honor.
"There are some people I have the utmost respect for who have gotten the Warren Hall Medal," Lacewell said. "To be among those and to be associated with Mac McKee is a highlight of my career."
Lacewell's interest in water resources management began early. At age 5, his parents brought irrigation to their dryland farm in the southern plains of Texas. He learned the Ogallala Aquifer the farm's irrigation depended on was declining. That began a lifetime of fascination with water resource management. He studied at Texas Tech University and Oklahoma State University, focusing on groundwater and surface water management. When Lacewell came to Texas A&M University's Department of Agricultural Economics, he was drawn to TWRI and became involved with UCOWR.
The Warren A. Hall Medal is the most prestigious UCOWR award. It highlights a lifetime's contribution to water resources research and participation in the council. Both Lacewell and McKee have served as UCOWR presidents and served many years as board members.
According to John Tracy, Ph.D., TWRI director and past UCOWR president, the council is unique among academic societies.
"UCOWR has created a collaboration space for water resource management researchers," he said.
Tracy added that, by honoring both men jointly, it furthered this tradition of collaboration.
"This was an opportunity to highlight the value of collaboration," Tracy said. "Mac was great, Ron was great, but their work together was fundamental to making their contributions much more significant than if they had simply worked independently."
UCOWR announced the award in February 2021. Lacewell and McKee will receive the award and provide comments on June 9 at the UCOWR annual conference.