Most people have heard about the infamous Flint, Michigan water crisis where lead leached into the drinking water pipes of some homes after the city's water utility switched water supplies.
Not only did the utility switch where it got its water, but it also changed the disinfectant it was using to purify the water. The disinfectant — chloramine, a group of compounds containing chlorine and ammonia — is used extensively throughout the United States to rid cities' drinking water of infectious waterborne diseases. But as good as it is at killing harmful organisms, if used without an anti-corrosive agent, chloramine can also cause older pipes to corrode, releasing lead, iron and other metals into the drinking water system.
Lead in Texas water?
The lead found in the water of Flint homes was noteworthy because lead, even at low exposure levels, is harmful to human health. According to the U.S. Environmental Protection Agency (EPA), low levels of lead exposure in children have been linked to damages of the central and peripheral nervous system, learning disabilities, shorter stature, impaired hearing and impaired formation and function of blood cells. Although drinking water is not the main source of lead poisoning, lead in water can contribute to the overall levels in a person's body.
EPA's maximum contaminant level goal for lead in drinking water is zero. Its actionable or enforceable level is 15 parts per billion, meaning that drinking water at that level or above requires the utility to make adjustments to reduce the amount of lead. (See Protecting Drinking Water.)
Not enough studies have been done to know the extent of lead in Texas drinking water, according to Dr. Garett Sansom, research assistant professor in the Department of Environmental and Occupational Health at the Texas A&M School of Public Health.
"It's not as bad as Flint, Michigan, that we know," he said. "But there's not a lot of at-point sampling being done within older homes," which is where lead would be expected to be detected.
Lead pipes are most likely in homes built before 1988. Congress passed a law in 1986 requiring that all drinking water plumbing materials contain no more than 8% lead; the allowable percent has since been reduced to 0.25%.
An analogous set of conditions to Flint — older pipe infrastructure and the use of chloramine by Houston to disinfect its drinking water — offered an opportunity for a group of Texas A&M University researchers and others to look at the possibility of lead in the southeast Houston neighborhood of Manchester.
More Information
Want to get txH20 delivered right to your inbox? Click to subscribe.
Discovering lead in homes in a southeast Houston neighborhood
An analogous set of conditions to Flint — older pipe infrastructure and the use of chloramine by Houston to disinfect its drinking water — offered an opportunity for a group of Texas A&M University researchers and others to look at the possibility of lead in the southeast Houston neighborhood of Manchester. Manchester is one of several low-income neighborhoods along the Houston Ship Channel that researchers within Texas A&M's Institute for Sustainable Communities and Superfund Research Center operate within.
The institute, of which Sansom is the Health and Environment Discovery lead, along with the Texas Environmental Justice Advocacy Services and a research team from the Texas A&M School of Public Health, College of Architecture and College of Geosciences conducted a small pilot study to test for elevated levels of lead in the water of Manchester homes.
The team learned of resident's concern about possible lead in their drinking water because of the ongoing partnerships with these communities. "They're the ones who came to us with the concern," Sansom said.
He said they conducted surveys with 13 residents and collected tap water samples from 22 homes in Manchester. The team found that 30% of the homes had lead in their water, ranging from 0.6 to 2.4 parts per billion. The levels were all below EPA's actionable level of 15 parts per billion, but above the water standard goal of zero.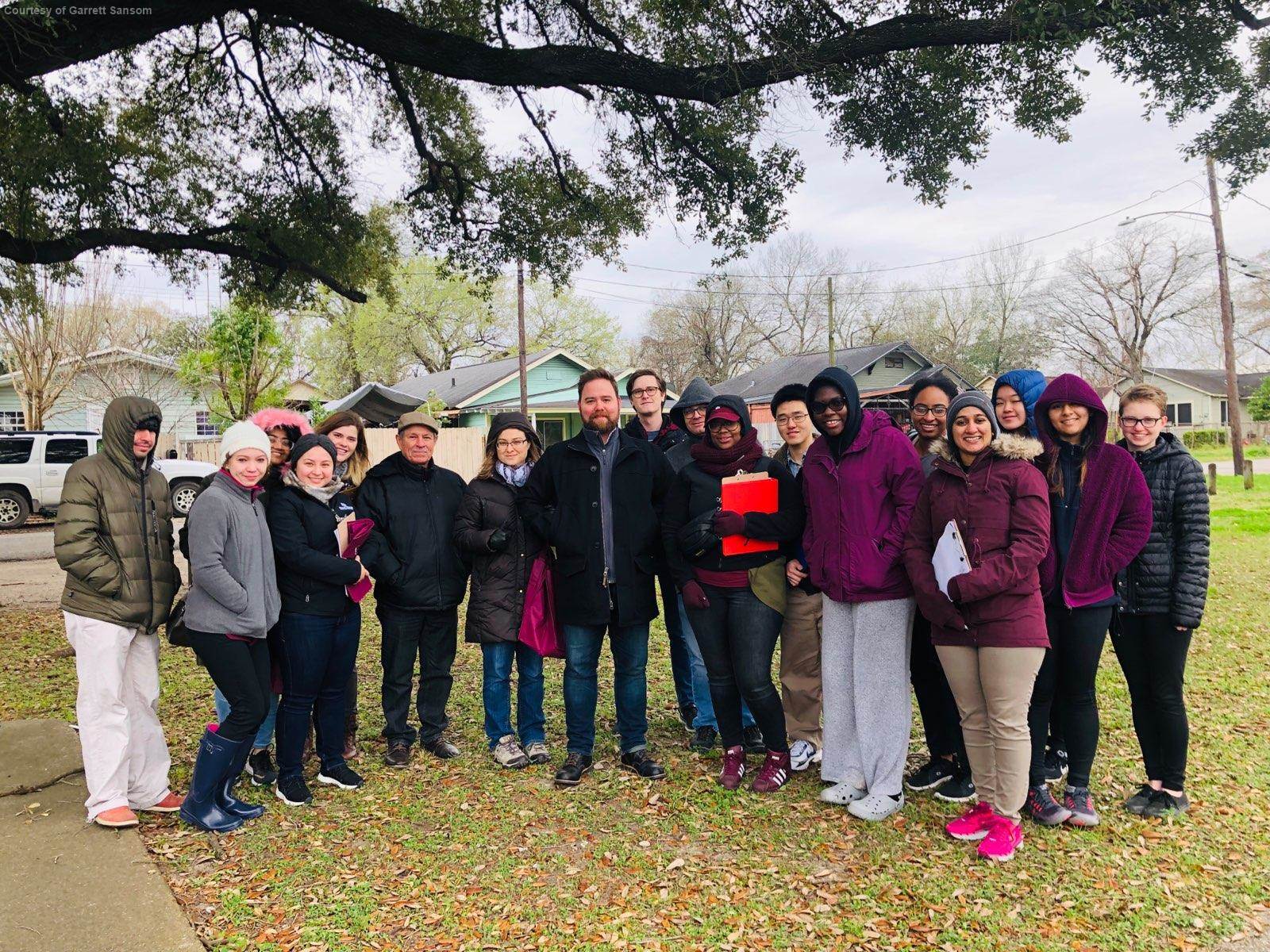 Of the 13 surveyed residents, Sansom said, about 31% had expressed concerns about their water before the tests; of those, 75% actually did have lead in their water.
Now, Sansom said, the team is expanding the study to survey about 1,000 homes along the Houston Ship Channel in part through support by the National Institute of Environmental Health Sciences of the National Institutes of Health's Superfund Research Program.
Addressing the problem
The Flint crisis increased the attention of the possibility of lead in drinking water, and both governmental entities and researchers are examining ways to better monitor and solve the problem.
EPA recently announced proposed updates to its lead and copper rule that will change how communities test for lead in drinking water.
In EPA's announcement news release, EPA Administrator Andrew Wheeler said the updates will improve protocols for identifying lead, expand sampling and strengthen treatment requirements.
While public water utilities can replace their lead service lines, Sansom said it is very expensive to retrofit an older home that might have lead pipes. The best option, he said, would be to have a program similar to government-led paint abatement programs, which provide funds to homeowners to cover the costs of replacing lead paint in older homes. The U.S. Department of Housing and Urban Development recently granted $28 million to 38 public housing agencies, including the Bryan (Texas) Housing Authority, to test and remove identified lead paint in its public housing.
"It'd be nice if the lead abatement program could be expanded upon and also include homes with older piping," Sansom said.
Getting the lead out of your water
While retrofitting homes and replacing the service lines leading up to the homes are very expensive, Sansom said there are simple things homeowners can do to help remove lead in their water. Using a water filter pitcher or installing a water filter as part of the kitchen faucet will usually remove any lead. Also, he said, turning on the water and letting the faucet run for a few minutes, will cause most of the lead to flow out of the in-home pipes.
Other recommendations, from EPA, include:
Use cold water for drinking, cooking and making baby formula. Boiling water does not remove lead from it.
Clean your faucet's screen (also known as an aerator) regularly.
Consider using a water filter certified to remove lead and know when it's time to replace the filter.
Flush pipes before drinking water by running the tap, taking a shower or doing laundry or a load of dishes.
Contact your municipal water system to learn more about sources of lead and removing lead service lines.
Authors
As the former communications manager for TWRI, Kathy Wythe provided leadership for the institute's communications, including a magazine, newsletters, brochures, social media, media relations and special projects.