Although she began as a pre-law student at Texas A&M University, Dr. Cristine Morgan quickly realized her passion for soil science and made a career out of it. "When I had to sit down and make a choice about what I really wanted to do with the rest of my life, I decided on soil science," she said.
Morgan's interest in law fostered a curiosity in how water was filtered by soil and if it was being cleaned. "Going back to my interest in law, I was originally really interested in how water did or did not get cleaned up by the soil," she said. "I was very interested in remediation, natural filtering of the soil, and kind of an Erin Brockovich thing."
From there Morgan became fascinated with soil physics, because it provided insight into the diversity within the soil profile and its effect on water.
"The reason I fell in love with soil is that I was amazed that you could walk across a field and everything was so different," she said. "You could look at soil in one spot and move over a couple of meters, and it was so very different."
After obtaining both her master's and doctorate degrees in soil science from the University of Wisconsin, Morgan returned to Texas A&M in 2004 as an assistant professor to teach and conduct research in the Department of Soil and Crop Sciences.
Currently, Morgan researches soil hydrology, including how water integrates into the soil profile. "It turns out that understanding how soils change in space can tell you a lot about the water movement," she said.
Rather than extracting soil cores, a common technique, Morgan uses an instrument known as VisNIR that "shines a light on the soil and measures its physical properties." This technique identifies certain soil traits, such as crop-yield potential and water-holding capacity, which can inform land management decisions.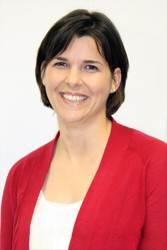 "In the past, soil physicists have brought the soil into the lab, and I refuse to do that, because the action is happening outside in natural conditions," she said, "If you take the soil away from its intact condition, you're reconfiguring how water movement in soil works."
Collecting field-based data provides a more complete and accurate representation of the soil. Morgan's work with VisNIR also helps map the soil for hydrology models so that inferences can be made about future soil conditions, she said.
In addition to research, Morgan currently teaches a class called Problem Solving in Plant Soil Systems, in which she emphasizes ingenuity and independent critical thinking. Students are required to conduct an experiment and make a research poster to present their findings. "They decide what they measure, and they decide what they look at. And the level of creativity I see in our students is really tremendous."
Morgan is also involved in soil judging, a competitive extracurricular activity that tasks students with describing soil profiles and making inferences about the soil, such as the water-holding capacity and potential uses of the land.
"It gets students out in the field and really seeing soils," she said. "We study soils in the lab; we study soils in the classroom, but it really gets the students understanding the importance of soils and realizing how variable they are."
Morgan was a soil judger herself as an undergraduate at Texas A&M, and in 1998 she was part of the first all-female soil judging team to win the national competition.
This year, Morgan and some of the top competitors in soil judging participated in the World Soil Congress in Jeju Island, South Korea, an experience that was both fun and educational, she said. The next World Soil Congress will be held in Brazil in 2018, and Morgan has already started planning for it.
International competitions in soil judging have recently developed thanks to Morgan and her colleagues. In fact, Russia, China and the United Kingdom are starting soil judging competitions in 2015 to celebrate the International Year of Soils as a result of their efforts.
For more information on Morgan's work, visit her webpage, watch this exclusive Conservation Matters video interview with her. To learn more about her international experience with soil judging, see this AgriLife Today news release.