Among all the negative effects of the recent drought in Texas, there was one positive result: low lake levels, and the resulting closure of many boat ramps, may have limited the spread of zebra mussels, an aquatic invasive species. With the recent heavy and frequent rains, however, the state's zebra mussel outlook has changed.
"We've got to be thankful for these rains," said Brian Van Zee, inland fisheries regional director for the Texas Parks and Wildlife Department (TPWD). "I'm not going to complain the least bit, because the lakes were so low for so long and we really needed that water."
But, Van Zee said, the large amounts of water flowing down river basins in May and June could potentially spread zebra mussels from the current seven infested lakes to more water bodies.
"Because zebra mussel larvae are free-floating in the water column for about 3-4 weeks after being spawned, zebra mussels are going to naturally migrate downstream with the flowing water," he said. "In a drought situation, that happens a little slower due to low flows. But, when we have a wet spring like we had this year, with all the rain and flooding, what we suspect is they may spread downstream further and probably quicker than what may have occurred otherwise."
Zebra mussels were discovered in Texas in 2009 and have since infested seven lakes: Texoma, Ray Roberts, Bridgeport, Lavon, Lewisville, Belton and most recently Waco. According to TPWD, the rapidly reproducing mussels can clog water intake pipes, damage boats and motors and completely cover anything under water, all resulting in serious economic, recreational and environmental impacts.
Some circumstances created by recent rains and flooding could help prevent the spread, he said. High river flows resulted in increased turbulence and turbidity, both of which could be harmful to zebra mussel larvae survival.
"So, I can't say definitively that everything from the Trinity River Basin in Dallas-Fort Worth down to Houston is now going to have zebra mussels, but it is very possible," Van Zee said. "It's certainly something we're going to be monitoring."
TPWD currently monitors 26 lakes in five river basins for zebra mussels. It also works collaboratively with several other partner agencies and universities, including the U.S. Geological Survey and the University of Texas - Arlington, who monitor other lakes around the state.
Van Zee said the recent high flows have also hampered monitoring. Physically inaccessible lakes and high amounts of organic matter and debris have made sampling difficult.
"We're sampling where we can right now, but in some of these river basins, like the Trinity and the Brazos, we will probably have to wait and do some additional sampling this fall to get a better handle on where we may or may not be seeing zebra mussels."
Boaters in Texas can do their part to help control zebra mussel infestations by following TPWD's Clean, Drain and Dry public awareness campaign, he said. Originally focused on LakeTexoma and other north Texas lakes, the outreach efforts now stretch down the I-35 corridor, south to lakes Belton and Waco and into the Austin and San Marcos areas, Van Zee said.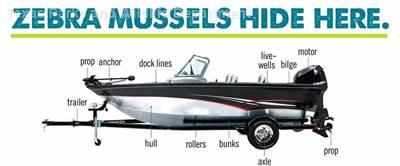 "While we can't stop the downstream migration of zebra mussels, boaters can help us prevent the spread of zebra mussels to other non-infested river basins and lakes in the state," he said.
It is illegal to possess or transport any prohibited aquatic invasive species in Texas. Since zebra mussel larvae, called veligers, are invisible to the naked eye, boaters must drain all water from their boat and all receptacles on board when traveling on a public roadway to or from a public water body in Texas.
"All aquatic invasive species are detrimental," Van Zee said. "If boaters can clean, drain and dry, then that will help prevent not only the spread of zebra mussels, but the spread of these other invasive species as well."
For a simple overview of how to properly clean, drain and dry a boat, watch this TPWD video.
For more information on zebra mussels and the campaign, visit texasinvasives.org/zebramussels and read this TPWD news release.