This month's txH2O highlight is from the Fall 2017 issue of the magazine and focuses on the effectiveness of low impact development (LID) practices in reducing negative environmental impacts of urban growth. Dr. Fouad Jaber, Texas A&M University associate professor and Texas A&M AgriLife Extension Service specialist at the Texas A&M AgriLife Research and Extension Center in Dallas, and his research were featured in the article, Earning high marks.
Jaber has designed and tested several LID practices including green roofs, permeable pavements and rain gardens.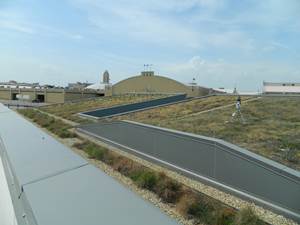 According to the article, green roofs are roofs partially or completely covered by topsoil and planted with vegetation. Rain gardens or bioretention areas are full ecological systems that work to reduce the total runoff volume from either residential or commercial areas.
Jaber is also part of the Texas Water Resources Institute's Urban Riparian and Stream Restoration Program.
To find out more about these LID practices, read the full article.