Samuel Brody, Ph.D., wants to help make society more resilient to natural hazards. To do that, one must first understand how to "bridge the gap between knowledge and action," he said.
As the director of the Center for Texas Beaches and Shores (CTBS) at Texas A&M University at Galveston (TAMUG), Regents Professor in TAMUG's Department of Marine and Coastal Environmental Science and adjunct professor in Rice University's Department of Civil and Environmental Engineering, Brody studies coastal environmental planning, floods and natural hazards mitigation.
Soon, he will also be leading the upcoming Institute for a Disaster Resilient Texas, an institute devoted to disaster planning, mitigation, response and recovery established in the 86th Texas Legislative Session in 2019.
Brody's interest in the connection between built and natural environments was first piqued in third grade.
"I was trying to see what of my sister's things I could flush down the toilet, and my father caught me red-handed," he said.
In response, his father, who worked in construction, took him on a tour of Baltimore's Back River Wastewater Treatment Plant by the Chesapeake Bay. He told Brody that he would be "the first third-grader ever to know what happens when you flush the toilet," Brody said.
"The trip was designed to shock and awe me, which it did," Brody said. "Growing up in Baltimore, I had no cognition of the nationally significant estuary, just the concrete jungle. I didn't know that all of it was connected, the human infrastructure and the natural environment."
That trip changed everything for him, giving him a "mindset of connectivity" about built and natural environments, he said.
Years later, he kept following that interest, completing a bachelor's degree in environmental studies and anthropology at Bowdoin College in Maine and a master's degree in natural resources policy and planning from the University of Michigan. After working in coastal planning and policy in Maine and Massachusetts for several years, he moved to North Carolina to complete his doctorate in city and regional planning at the University of North Carolina at Chapel Hill.
In 2002, Brody was hired as a professor at Texas A&M University. After Hurricane Ike hit Texas in fall 2008, he moved to Galveston to head up CTBS. When Hurricane Harvey hit nearly a decade later, he was instrumental in Texas' response and recovery, serving as the lead technical expert of the Governor's Commission to Rebuild Texas.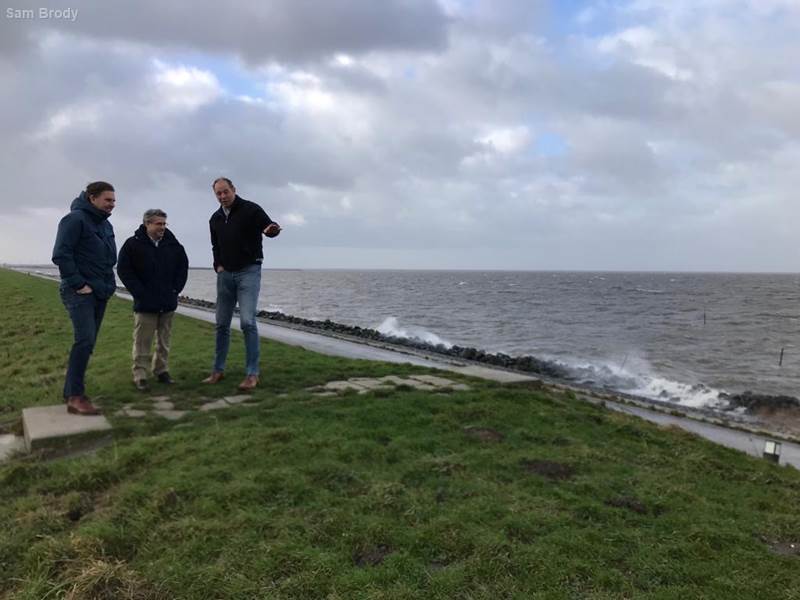 As Brody moved through his career, he sometimes saw a gap between the knowledge gained from research and the actions made by decision-makers. This, he said, is because moving from knowledge to action is a multistep process.
"You can't just go straight from knowledge to action. The transition has four components," he said. "There's data analytics, visualization of those analytics and communication of those visualizations to the appropriate stakeholders. And then the fourth component is learning all the time, early, often and ongoing."
At CTBS, one way Brody and his team have helped bridge the gap between knowledge and action is by developing a variety of online tools that provide accessible, actionable information about coastal hazards to lay users.
One tool, CTBS's Texas Coastal Atlas, is the most comprehensive online interactive database ever compiled about the Texas coast, providing information all the way down to the level of an individual house. Another tool, Buyers Be-Where, is "Zillow meets risk," he said.
"The real estate transaction process is a critical time for people to understand not just their school rating or their distance to work, but their risk around flooding, ecological hazards and pollution," Brody said. "With Buyers Be-Where, you can put in an address and get simply conveyed, color-coded scores across nine hazards, plus a composite 'Be-Where' score."
Tools such as Buyers Be-Where and the Texas Coastal Atlas help people understand the network of different factors in built and natural environments that impact their risk level on both an individual and regional scale, he said.
"If we focus just on the impact of one factor, we might miss the impact of another, like homes being built in floodplains," he said. "Flooding risk is not just about heavy rainfall or sea level rise, but also about the way that human built environment affects our landscape."
Understanding those risks holistically helps reduce hazards before they happen, Brody said. The "stellar team of faculty and researchers" at CTBS makes understanding the risks possible, he said.
"At CTBS, our mantra is to try to find the waves before they crest," he said. "We're not jumping on the wave when it crests and riding it back to shore; we're developing processes to spot the waves just as they begin to swell up."
Brody will continue to bridge the gap between knowledge and action as he adds his role as director of the Institute for a Disaster Resilient Texas. The institute, which will be part of Texas A&M, will be built in Houston and will have participants scattered around the country and the world, he said.
By bridging that gap, Brody hopes to continue making society more resilient to natural hazards over the long term.
"I've been able to hopefully make a little bit of a difference. That's what drives me," he said.
"My new mindset is that the goal is no longer just research — the goal is change and action. We're still going to produce scholarship, but that's part of the journey, not the end goal. We're going to change the world for the better."