How to build over 4,000 acres of wetlands from scratch
Texas is growing fast. By 2060, North Texas' population is expected to double. As droughts become more common in an already dry landscape, supplying enough water to all those additional people can be a daunting task. The Tarrant Regional Water District (TRWD) and the North Texas Municipal Water District (NTMWD) have turned to wetlands to increase their water supply.
In wetlands — water's original filter — plants and microbes take up nutrients like phosphorous and nitrogen from water, improving water quality. Texas has a wide variety of naturally occurring wetlands, from playas in the Panhandle to salt marshes along the coast.
Wetlands are a more cost-effective water treatment method than building new reservoirs and can be built faster and have a smaller physical footprint. TRWD and NTMWD wanted to use wetlands to increase the drinking water supply for their combined 3.8 million consumers.
But first, the water districts had to build them.
Building a wetland from scratch is no easy feat. TRWD studiously developed the 2,022-acre George W. Shannon Wetlands — the first of their kind in the United States — over 24 years, finishing in 2013. Starting in 2004, NTMWD followed in TRWD's footsteps, completing its 2,000-acre East Fork Wetlands in 2009.
To create a wetland, you first need water, said Timothy Noack, registered professional engineer and principal with Plummer, the engineering firm that designed both districts' wetlands.
For TRWD and NTMWD, that water came from the Trinity River, which is dominated by treated wastewater, or effluent, discharged further upstream.
"The water districts wanted to reuse the effluent instead of losing it. They wanted to conserve, recapture and reuse that water," Noack said.
Unlike other inputs to the region's water supply — rain and runoff flowing into the reservoirs — reusing effluent in the wetlands is "drought-proof," said Mike Rickman, NTMWD deputy director of operations and management. Even during long periods of drought, effluent is always flowing in the river, waiting to be used.
Once you know where the water for your wetland will come from, you need land to build a wetland on, Noack said.
"Ideally, you want clay soils and gently sloping topography," he said. Clay soils prevent water seeping to groundwater, and gently sloping topography allows for gravity flow through the wetland system.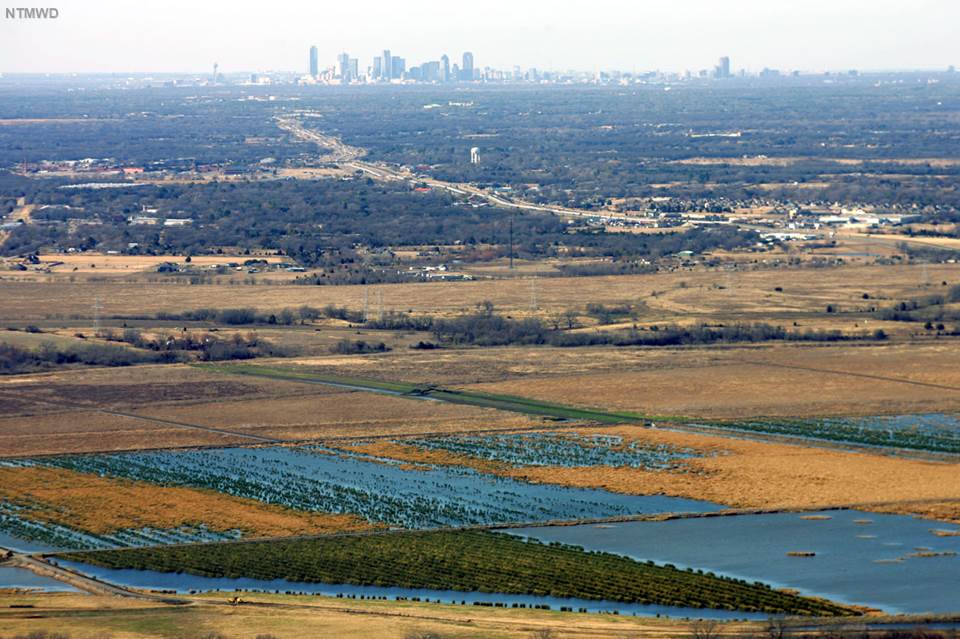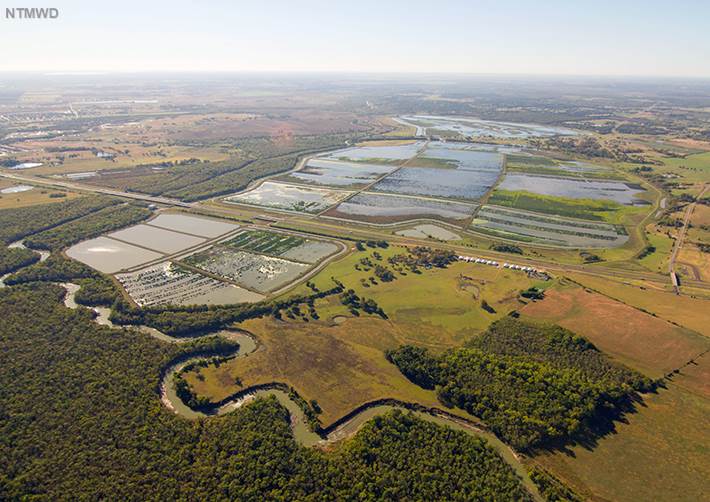 "When you design a wetland, you need to make sure it will be hydraulically efficient. All the water needs to flow throughout the full wetland system so it has the opportunity for quality improvement," Noack said.
Levees are used to retain water pumped in from the river and to allow driving access throughout the system. Over 1.6 million cubic yards of earthwork was required to build the levees at the NTMWD wetland; TRWD had to move a comparable amount.
The constructed wetlands are divided into a network of "wetland cells." In NTMWD's and TRWD's wetlands, the cells ranged in size from 9 to 156 acres. The bottoms of the cells are graded to help control water depth. Earthmoving for building wetlands — moving soil from point A to point B, ensuring a balance between soil added and soil removed — is "both engineering and an art," Noack said.
The art of delicate calibration is a recurring element in wetland construction. TRWD expanded the George W. Shannon Wetlands from a 3-acre pilot study to the final 2,022-acre wetland over 24 years.
"We couldn't just flip a switch and turn the wetland on," said Chris Zachry, TRWD wetlands project manager. "It was years of investigating to ensure we weren't going to degrade the quality of the water in the reservoir by diverting Trinity River water."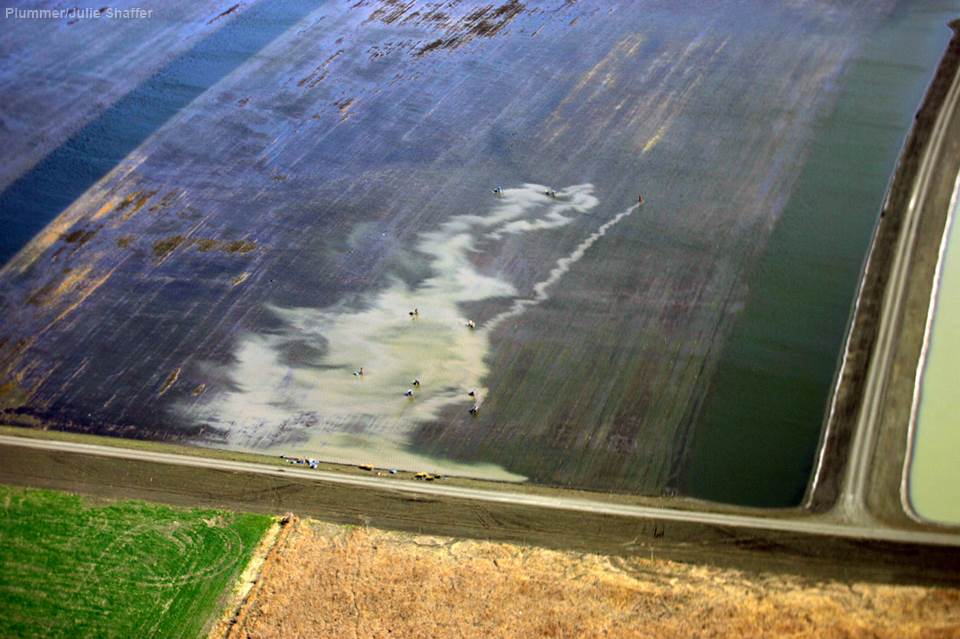 A difference of a few centimeters of water can change the wetland plant community, Zachry said, so the water level in every wetland cell can be controlled. Different plants uptake nutrients in different amounts, so a diverse plant community is better at improving water quality, as well as making the wetland more resilient to droughts and floods.
Both water districts started out individually hand-planting wetland plants. NTMWD operated 28 acres of nurseries during construction, Rickman said, to populate the wetland with 21 different species of native plants. In the final phase of TRWD's wetland development, TRWD shifted its planting strategy, after finding that the soils were full enough with wetland plant seeds that they could naturally colonize the landscape.
Once the planting is done, a constructed wetland is ready to go into operation, Noack said, though monitoring continues.
Each water district has a pump station at the Trinity River that diverts river water to the wetlands. The water flows through pipelines to sedimentation basins, where sands and heavy silts settle out over a 24-hour period. From there, the water moves through a series of wetland cells over the course of 7 to 10 days, getting treated by the natural mechanisms of the sun, plants and microbes. The water from the Trinity River, which comes into the wetland a murky brown, comes out of the wetland clear, with approximately 85% of the sediment and 60% of the nutrients removed.
Where traditional water treatment plants would use chemical or mechanical treatment, the wetlands are "using the machine of nature," Rickman said, capitalizing on natural processes. The wetland water treatment system is also powered entirely by gravity, except for the pumps at the beginning and end of the process.
The water travels from the wetlands via pipelines to be pumped into TRWD's and NTMWD's respective water supplies, the Richland-Chambers Reservoir and Lake Lavon. The quality of the wetlands water is as good as or better than that of the receiving tributaries of the reservoir, Zachry said. Along with the rest of the water supply, the water delivered from the wetlands is treated to drinking water standards and then delivered to consumers.
Work on the wetlands doesn't stop after they go into operation, Rickman said.
Water quality is tested frequently, plants are replenished from different parts of the wetland, and levees have to be rebuilt sometimes after flooding. Invasive species also have to be controlled: carp stir up the sediment, feral hogs uproot plants, and nutria "use the wetlands as a salad bar," Rickman said, chewing giant bulrush off at the base. Controlled burns and periods of more or less water mimic natural processes and are used to control plant populations.
TRWD's George W. Shannon Wetlands and NTMWD's East Fork Wetlands can each produce about 90 million gallons of water per day, all for less than half the cost of creating an additional reservoir. And the process is sustainable: once the water is used by consumers, the wastewater is treated, returned to the Trinity River and eventually re-entered into the wetland treatment system.
Creating the wetlands also has less impact on habitat than a reservoir would, Zachry said, while still supplying the same amount of water. Building a reservoir would require removing bottomland hardwood habitat, while the wetlands were built on existing former agricultural land.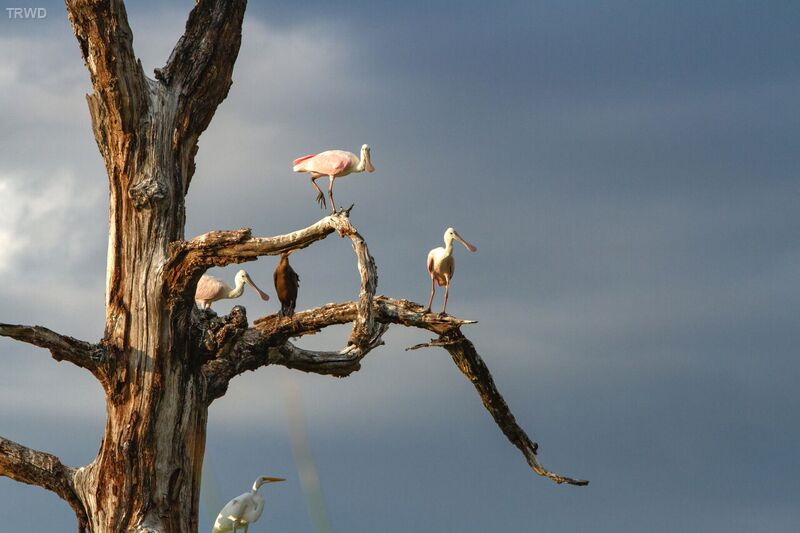 Instead, TRWD's and NTMWD's constructed wetlands create more habitat for everyone to enjoy. Roseate spoonbills, wood storks and other migratory birds join the year-round birds in late summer. Bald eagles began nesting at the NTMWD's East Fork Wetlands in 2012 and have since fledged 12 eaglets. Birders, horseback riders, hunters, hikers and bicyclists flock to the wetlands, and busloads of school students and nature lovers alike explore NTMWD's John Bunker Sands Wetland Center.
The wetlands have been so successful that TRWD will be creating more in the future, this time paired with the nearby Cedar Creek Reservoir. Having the wetlands has helped diversify the region's water portfolios, Zachry said, which makes the water districts more resilient in times of increasing population and drought.
And it doesn't hurt, of course, that the wetlands are just a great place to go, Zachry said.
"I think I have the best office — the wetlands," Zachry said.
"It's really rewarding to know that not only are the wetlands important as a water supply, they're also beneficial to wildlife. You can talk to people across the state, and no matter who you are, everybody loves them. They're beneficial in some way for everyone."
Authors
As a communications specialist for Texas Water Resources Institute, Chantal Cough-Schulze worked with the institute's communications team writing articles for and editing txH2O magazine and TWRI's news section, developing TWRI multimedia materials and editing reports and education and outreach materials. She also served as the managing editor for the Texas Water Journal.