The Texas Water Resources Institute (TWRI) is continuing to grow. Three new faces have joined the team in recent months: Alexander Neal as a program specialist, Jason Nitsch as a grant administrator and Jason Gerlich as a research specialist.
Alexander Neal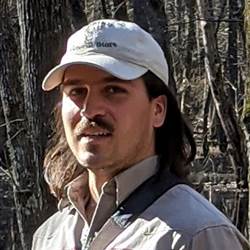 As a program specialist, Alexander Neal leads the Texas Riparian and Stream Ecosystem Education Program and the Urban Riparian and Stream Restoration Program. He also assists with surface water monitoring efforts and is a project manager for a project focusing on K-12 water education.
Raised on White Rock Lake in East Dallas, Neal was first drawn to water work when he had the opportunity to monitor natural springs in the Great Trinity Forest as a high school citizen scientist.
"I was fascinated that the Great Trinity Forest even existed in the city limits, because Dallas is known as being this really incredibly urbanized area," he said. "And I found out that it was flourishing with wildlife, birds and mammals and that it had natural springs that had incredible water quality."
After doing his high school thesis project on the forest, Neal went on to get his Bachelor of Science in geography and environmental studies from Texas State University. He then worked as a grant technician at the Meadows Center for Water and the Environment and a park ranger at Texas' Pedernales Falls State Park and Big Bend Ranch State Park. He also trained to be a wildland firefighter, which he said gave him "a whole new appreciation for water."
Neal hopes to use his experience and expertise to help communities protect the waters they love.
"I'm excited to be a part of programs that educate and empower," he said. "I'm very excited to be a part of something that makes a lasting impression on our landscape and the people that make up that landscape."
Jason Nitsch
Jason Nitsch recently joined the team as a grant administrator and project manager. Nitsch manages proposal budgets and timelines, coordinates with staff, partners and funders and supports the TWRI team from proposal compilation and submission to award execution. He is also the project manager for a project focusing on using regenerative agricultural practices to sustainably intensify agricultural production in Oklahoma and Texas.
Originally from Houston, Nitsch received his Bachelor of Science in industrial distribution from Texas A&M University. After graduating, he worked as a purchasing manager at an electrical contractor and developed a side business in photography and videography.
Nitsch is looking forward to applying his expertise to the world of water and agriculture.
"I didn't come from an ag background," he said. "But when I heard about this job, I was excited to work for a place that was doing something good for our environment."
Nitsch said that he's excited to use his "outsider's perspective" to help make project and grant information accessible and helpful to everyone, regardless of their background. Getting to use his skills while diving into a whole new field is also part of the fun for him.
"Learning about all the different things that TWRI is going to be doing and testing, it's providing me a lot of growth," he said. "And it's good to utilize my brain and keep learning, and I don't feel like every project is going to be the same thing. I'm going to keep learning and growing."
Jason Gerlich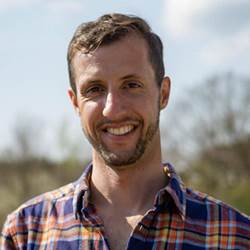 Jason Gerlich, TWRI's new research specialist, works on a variety of watershed projects doing water quality monitoring and developing total maximum daily load and implementation plans. He is also working with Nitsch and others on the regenerative agriculture project in Oklahoma and Texas.
Gerlich, who is originally from Houston, received his Bachelor of Science in watershed science from Colorado State University. Through a series of research technician jobs, he became fascinated by the intersection of hydrology and agriculture, loving how his work could have tangible, real-world impacts. That interest propelled him to Europe, where he received a Master of Science in soil science from a joint graduate program at Ghent University in Belgium and Aarhus University in Denmark.
"I'd always been seeing how far I could push it and how much further and wider I could gain a perspective on hydrological issues," he said. "And then it took me right back home."
Returning to Texas to do hydrology research is "a full circle moment," Gerlich said. He's looking forward to being able to "make our stakeholders feel just as excited about this work as I do" and being a resource for communities navigating water issues.
"We're here to help, and we are helping, and we have a track record to prove that," Gerlich said. "There's a tool in our toolbox that can help you and the environment around you."