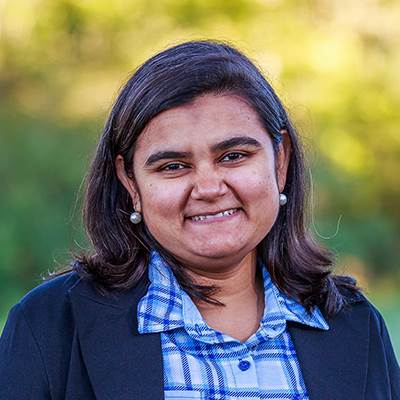 Achla Jha
Graduate Research Assistant
achla.jha@ag.tamu.edu
---
Achla Jha joined the Texas Water Resources Institute as a graduate research assistant in September 2018, focusing on GIS and watershed management and protection projects. While at TWRI, she was pursuing a master's degree in biological and agricultural engineering at Texas A&M University. Her research interests included water quality analysis and hydrologic modeling. Prior to joining TWRI, she worked as a student technician with Texas A&M AgriLife Extension Service.
Achla earned a bachelor's degree in agricultural engineering from Junagadh Agricultural University, India. She completed her M.S. in biological and agricultural engineering from Texas A&M University and is also pursuing a Ph.D. in this field. 
In her leisure time, she likes traveling and being outdoors.