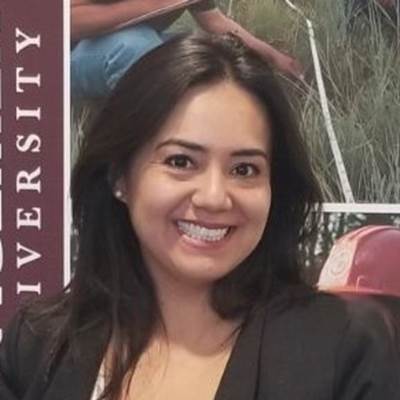 Gabriela Sosa
Program Aid
gabriela.sosa@ag.tamu.edu
(979) 845-5579
---
Dr. Gabriela Sosa was a field scientist at the Texas Water Resources Institute and a postdoctoral research associate in the Department of Ecology and Conservation Biology. Dr. Sosa assisted with performing surface water quality monitoring activities in support of ongoing large-scale research projects at TWRI.
Prior to joining TWRI in 2019, Dr. Sosa was a congressional fellow in the U.S. House Committee on Natural Resources in Washington, D.C. where she provided guidance on policy issues related to the management federal lands. Her congressional briefing paper examining the impacts of hardrock mining on aquatic and terrestrial ecosystem was published in the Harvard Journal of Hispanic Policy.
In addition to her public policy experience, Gabriela earned her doctoral degree in Ecosystem Science and Management from Texas A&M University with a focus in restoration ecology. Her doctoral program was supported by the Alfred P. Sloan Foundation. Dr. Sosa is currently a member of the Society for Ecological Restoration (SER) and the lead instructor for the National Hispanic Environmental Council (NHEC), a residential-based field institute that introduces underrepresented minority college students to STEM careers.
Outside of work, Dr. Sosa enjoys swimming and spending time outdoors with her husband and family in South Texas.