When it comes to jobs that make the world a better place, few people probably think of irrigators and irrigation engineers. But Juan Enciso, Ph.D., thinks they should.
"To sustain our population and to have a better environment, we need better irrigation practices," he said. "Irrigation people will help to create a better world."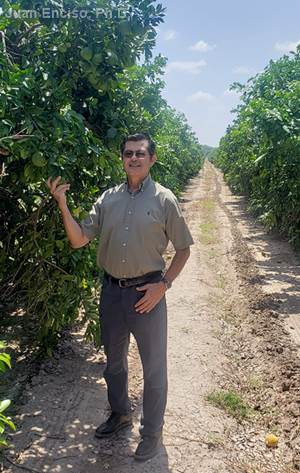 Enciso is an associate professor in Texas A&M University's Department of Biological and Agricultural Engineering with a research appointment at the Texas A&M AgriLife Research and Extension Center at Weslaco. He has worked for over 30 years to make irrigation systems more efficient, and he sees this as necessary to help farmers and the environment.
Appreciation of both agriculture and the natural world led Enciso to irrigation. He grew up in Morelia, capital city of the state of Michoacán in central Mexico, at the base of the Otzumatlán mountain range. There he developed a fondness for the green and beauty of the mountains and forests, as well as the region's abundant avocado orchards.
"My father is an agricultural engineer," Enciso said. "One time he invited me to one of those workshops like the ones we organize here. I was in high school and the workshop was about irrigation of avocados."
Though he admitted his father suggested the class in part to keep him busy during the summer, Enciso found the workshop very engaging, particularly for its holistic approach.
"The presenter was showing us pictures of how to irrigate avocados, talking about the problems with water and explaining the hydrology of the area. I also got to talk with people who design irrigation pumps and irrigation systems," Enciso explained.
That workshop sparked his interest in studying irrigation.
"I was just sitting there, and I thought, 'This is what I'd like to do in the future,' you know?"
Enciso first studied irrigation engineering at the Universidad Autonoma Agraria "Antonio Narro" in Saltillo, Coahuila, Mexico. This was a change of scenery since the northcentral city is far more arid and industrial than the forested, rainy mountains of Morelia.
"In the south you have too much water, but in the north, you don't have enough water, so you have to be more efficient with it," he explained. "Irrigation is very important."
After receiving his Bachelor of Science degree in 1984, Enciso moved on to the nearby "Monterrey Tech" — the Instituto Tecnologico de Estudios Superiores de Monterrey in Nuevo Leon, Mexico — to get his Master of Science degree in water management.
The farm crisis of the 1980s peaked while Enciso was in graduate school. The agricultural recession of the late 1970s and 1980s was not limited to the U.S.; Mexico was hard hit by the international economic climate and the situation was disastrous for farmers.
Enciso, who also worked in a bank giving loans to small producers while going to school, described it as chaos.
"It was a very bad moment. There was inflation of 100% when I finished my masters in 1986."
Enciso left Mexico after that for the University of Nebraska-Lincoln to get his doctorate in agricultural engineering. But he was not away long. After completing his degree in 1992, Enciso returned to Mexico to help improve irrigation systems there.
"I came to Nebraska with a scholarship from Mexico, so my commitment was to work the same number of years I received the scholarship," he said.
He worked those years in the Baja peninsula, designing irrigation systems for an area that was over pumping groundwater to irrigate vegetables largely destined for export to the U.S. and Asia. This over pumping, Enciso said, resulted in saltwater encroachment into the aquifers. As a result, farmers in the area turned to drip irrigation to use scarce water resources more efficiently.
Although drip irrigation was the best solution for the Baja peninsula farms, Enciso, who has traveled widely and loves to see new places, stressed that every situation is different. Just because an irrigation practice or technology works in one place, does not mean it is the best choice everywhere.
"You have to evaluate the overall management of the farm, the economics and all those things to decide what you need to do," he said, emphasizing that a "one size fits all" approach often does not make economic sense.
Though Enciso said economics "keeps our feet on the ground," he is looking to the skies in his current research, using drones and even satellite imaging to help farmers make better irrigation decisions.
"What I'm trying to do is use remote sensing to see if, by doing measurements in the crop canopy, I can estimate the water use of the plant," he said.
"What we want is to have a more accurate way to determine the status of the plant. We want to do it the most practical way because irrigators need to have tools to make decisions faster and in an easy way. So, whatever we do, a tool or a technology, what we want to do is have something that can make things easier."
Enciso hopes the future of irrigation includes a more holistic approach to the environmental, human health and economic impacts involved. For example, he would like to see plastic pipes widely used in irrigation recycled after they are replaced instead of in landfills to reduce the environmental damage. Similarly, irrigation practices can help either exacerbate or mitigate water quality issues that can harm human, animal and environmental health such as nutrient and pathogen loading of water systems. But that takes targeted irrigation strategies and technologies that work for farmers.
Given the importance of agriculture and how much water it needs, irrigators and irrigation engineers can have a big impact on society and the world, Enciso says.
"If we are more efficient, we are going to have more water availability for human consumption, for leisure, and we will create a better environment."