TWRI Publications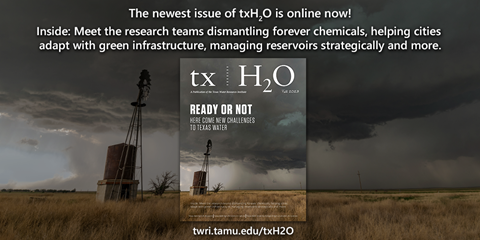 txH2O magazine features stories on current water resources research and outreach programs in Texas and priority water issues facing Texas. 
TWRI News is an email newsletter covering the latest Texas water research and solutions. 
Read    Subscribe    Read archived issues 
This newsletter provides periodic updates of upcoming trainings on riparian and stream restoration, watershed protection planning, and other natural resource issues. 
 
Peer-reviewed Publications
TWRI researchers author peer-reviewed journal articles and publications to advance scientists' understanding of the critical issues facing water resources in Texas and around the world.
Read TWRI Research Publications     
 
Looking for an out-of-print publication?
We keep an archive of newsletters dating back to 1974.

Other Publications
The Texas Water Journal is an online, peer-reviewed journal devoted to the timely consideration of Texas water resources management and policy issues that integrates science, engineering, law, planning, and other disciplines. The journal is published by the Texas Water Resources Institute in cooperation with a nonprofit organization, Texas Water Journal.
 
Subscribe
Texas+Water is a monthly newsletter published by The Meadows Center for Water and the Environment, the Texas Water Journal and the Texas Water Resources Institute.
 
Subscribe




Technical Reports
Get the results of TWRI-funded research through technical reports.
 Archived Educational Materials.