The Arroyo Colorado Watershed Partnership has updated its website, arroyocolorado.org. The new site has a modern, easy-to-navigate layout and much of the same information as the old site. The new site also includes a story map with a tour of the Lower Rio Grande Valley.
On the redesigned homepage, you will find a map of the Arroyo Colorado watershed with a link to the story map, upcoming events, watershed updates, resources, a photo gallery and a link to subscribe for future updates and news from the Arroyo Colorado Watershed Partnership.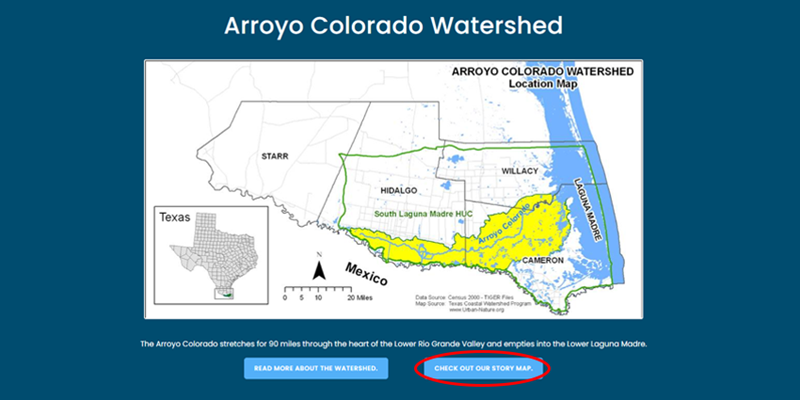 The menu bar is linked to information about the watershed, projects, events, updates, how to become involved, maps and GIS data, and resources:
About – Watershed, partnership, work groups, watershed protection plan, people and collaborators
Projects – Current and completed projects
Become Involved – Volunteer/Outreach, Arroyo Colorado Watershed Partnership Membership
Maps and GIS Data – GIS Viewers, Arroyo Colorado watershed, water quality assessment, pollution sources and source loading analysis
Resources – Newsletters, publications/fact sheets, physical watershed model, septic system resources, videos, photos and external resources
The Arroyo Colorado Watershed Partnership is a collaboration of federal, state and private organizations that meet to improve watershed health and integrate watershed management in the Arroyo Colorado Watershed. The partnership focuses on the interrelated issues, such as flooding, drainage, habitat and water quality, particularly runoff pollution concerns.
Subscribe and follow the Facebook page for news updates from the Arroyo Colorado Watershed Partnership.