By Danielle Kalisek
Urban water conservation is high on the list of managing Texas' future water supplies. The approaches used in current urban water conservation programs span everything from rebates, education and landscape watering restrictions. A team of researchers and specialists of The Texas A&M University System recently focused on a different aspect of urban water conservation, asking the question: Can providing consumers with information about their water use help them conserve more water?
To answer this question, the team used advanced metering infrastructure (AMI) data as its starting point. Over the past 10 years, some water utilities have installed AMI meters at consumers' homes. AMI is an integrated system of smart meters, communications networks and data management systems that enables two-way communication between utilities and their customers. AMI technology allows utilities to read meters data at hourly or smaller intervals as opposed to the traditional once-per-month of manual meters.
Now water users can see exactly how many gallons they use to water their lawns, wash their cars or feed a malfunctioning toilet, and how much each of these costs in dollars and cents.
The most common way for consumers to see the recorded information is to include their total water use data in either their printed or electronic monthly bill. However, the project team has brought this data to life by building an online, user-friendly web portal that allows users to see their individual household's daily water use and projected water bill.
Working with Arlington Water Utilities, the AMI project team automated a process in which the city uploads data on a daily basis, and in turn, this information is uploaded to the web-based portal.
"Now water users can see exactly how many gallons they use to water their lawns, wash their cars or feed a malfunctioning toilet, and how much each of these costs in dollars and cents," said Dr. Kelly Brumbelow, associate professor in Texas A&M's Zachry Department of Civil Engineering and principal investigator for the project. "This is a big improvement over lumped monthly bills where the consumption and cost associated with any particular usage is hidden in the total."
Viewing and using AMI data
Residents can log in to the secure portal to see bar charts illustrating their water use in gallons and costs at both a daily scale within a billing cycle and an hourly scale within a selected day. Consumers can also project what they will use if they continue their current water use, said Dr. Allen Berthold, Texas Water Resources Institute (TWRI) research scientist and one of the project's researchers. The ability to change the bar chart to dollars, manage multiple meters, download data and set high-usage alerts have also been built into the web portal.
"When residents have access to their own water-use information at such intervals, they can determine which activities use the most water," Berthold said. "This type of data allows them to also set numeric conservation goals for their home instead of qualitative goals.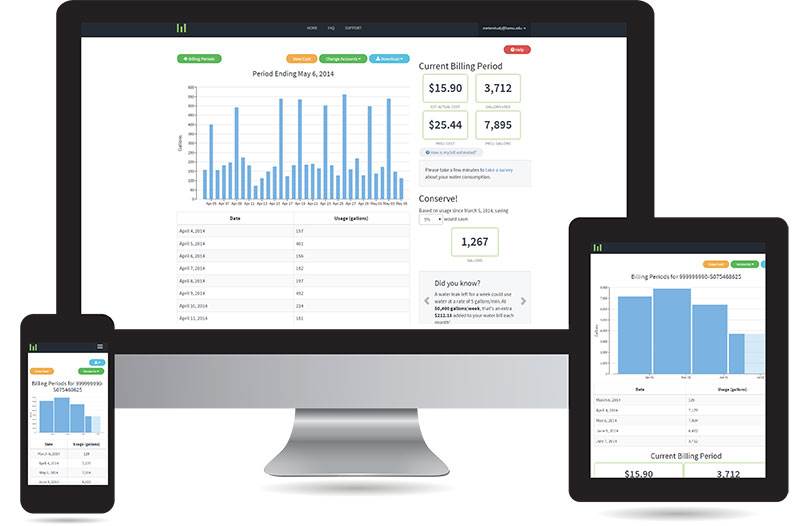 "If residents see water being used in the middle of the night when no one was awake, this could be indicative of a leak. Push notifications can be sent to alert the resident of this type of water use," he said. "Additionally, if larger than normal amounts of water are used at once, residents can identify where the water is being used and make changes accordingly."
Analyzing water-use data
The team is continuing to analyze the water-use data to determine if portal users use less water. Preliminary results indicate portal users reduced their water use by an average of 8.7 percent in the wintertime and 17 percent in the summertime compared to nonportal users, Brumbelow said.
"When compared to the state water plan's expectation of municipal water conservation providing 19 percent of the 2060 municipal water supply needs in Texas, these results are promising," he said.
Additional years of data are needed to further validate current results and show greater potential savings, he said.
"Some challenges during this project were that summer 2014 was an unusually wet summer, well-timed rains depressed outdoor water use for all consumers, and drought restrictions were not constant," Brumbelow said. "While this is usually a good thing, for what we were looking at in this project, it was a bit of a challenge."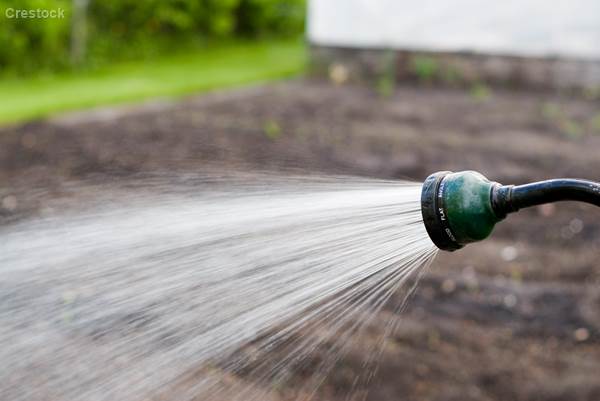 In addition to evaluating the web portal data, the team analyzed existing data from the utility, such as lot size, appraised value, zoning, living area and zip code, and conducted surveys.
The first consumer survey was sent to both users and nonusers of the web portal soon after the web portal was launched June 2013.
"Both survey responses and existing data were paired with consumers' respective water use and analyzed to identify the predictors of water consumption among both users and nonusers of the web portal," Berthold said. "Results indicated that neither existing data nor psychological data were good predictors of water consumption, but the two combined gave the best results. Specifically, zoning, income bracket, number of people in the house and living area were the strongest predictors of water usage."
Water-saving results
So far, the project team has seen successful results from consumers using the web portal, its data and survey responses received.
"It is a well-known fact that the more people know about their water resources, the more likely they are to participate in water conservation," said Dr. Kevin Wagner, TWRI's deputy director and a co-principal investigator on the project. "With AMI, we are observing just this. We are providing customers knowledge regarding their consumption and related costs, and as a result of this knowledge, they are conserving more."
Results from the web portal stats and surveys show consumers use it.
"The web portal has produced good results as far as people using it, and we have 1,190 users to date," Berthold said. According to the survey responses, 22 percent of users access the web portal once a week and 38 percent access it at least once a month.
"The major impact of this project was the ability to reduce water consumption by an average of 17 percent amongst web portal users during the summer months," Brumbelow said. In addition, 81 percent of respondents said they have a better understanding of how much water is used in the home, and 54 percent have changed their behavior as a result of seeing their water usage.
The web portal has produced good results as far as people using it, and we have 1,190 users to date.
To provide educational assistance to utilities, the team developed two guidebooks that are available on TWRI's website. The first guidebook, "Considerations for Adopting AMI and AMR," was designed to help utilities when they are considering adopting the technology. The second guidebook, "Utility Customer Profile Guide for Water Conservation Planning," was designed to assist utilities in analyzing data when planning water conservation programs.
Three publications have also been submitted for review to various journals with more anticipated, Berthold said.
During the project, the team partnered with Johnson Controls Inc. to deliver eight education programs across the state to more than 140 people, including many utilities' staff. Presentations were given at each of these programs about the web portal, analysis, results and goals for project expansion, but the focus of the trainings was to provide utilities with information about AMI systems so they could be more informed when purchasing one.
"These trainings were very successful," Berthold said. "Utilities from across the state attended and all of the feedback I received was extremely positive. This was a topic many people had requested, and attendance at these events showed the importance of these trainings about emerging technology."
Brumelow said although a pilot project, it achieved "bottom-line" accomplishments. "The water conserved by our AMI portal users has resulted in a savings of over $70,000 on their water bills — that's money kept in their wallets. And, the utility has newly available water that's enough for 150 new families with no new outside supplies brought in. These are both spurs to continued economic growth."
Continuing AMI work
The success of the project and input from water conservation professionals and others has confirmed that continued research is needed.
"Water conservation is a large part of meeting future water demands and should continue to be an area of focus for Texas A&M AgriLife Research, the Texas A&M AgriLife Extension Service and the Texas A&M Engineering Experiment Station," Brumbelow said. "Further, the need for water conservation program evaluation has been echoed by various utilities, and this project plays a role in that area of research as well."
Leak detection is another area of potential growth, and utilities are interested in the development of technology to detect leaks, he said.
The water conserved by our AMI portal users has resulted in a savings of over $70,000 on their water bills.
The AMI project received continued funding beginning in November 2015 for another two years, which will include working to copyright the developed features for licensing to utilities and/or private industry. The project team has also been working with The Texas A&M University System Office of Technology Commercialization to copyright the web portal development code, database structure and design.
Additional features the team plans for the new project include more email alerts, a mobile app, consumer reports, neighborhood comparisons, conservation education materials and indoor and outdoor use estimates.
The team also plans to expand to new utilities, continue data collection and analysis, deliver education programs and present at state and national conferences. It will also develop standardized best management practices for the Water Conservation Advisory Council and participate in and pursue a National Science Foundation Innovation-Corps grant to conduct market research.
This project was funded by a joint Texas A&M AgriLife Research, Texas A&M Engineering Experiment Station and Texas A&M AgriLife Extension Service Water Seed Grant: Creation and Deployment of Water-Use Efficient Technology Platforms. In 2013, the Texas Legislature charged the agencies to address the critical nexus for water-use efficiency as part of addressing the future water needs of Texas.
Authors
Danielle Kalisek is the Assistant Director for Institute Operations for the Texas Water Resources Institute. In this role, she manages institute business, particularly the pre-award through account setup processes and state and designated accounts, she also coordinates communications and websites services and needs for the institute.