Wagner named deputy director
Dr. Kevin Wagner was named the deputy director of engagement of the Texas Water Resources Institute (TWRI) in January 2016. Formerly TWRI associate director, Wagner's new role includes engaging with the water resources community in Texas and the nation and coordinating TWRI's outreach activities with the Texas A&M AgriLife Extension Service and The Texas A&M University System.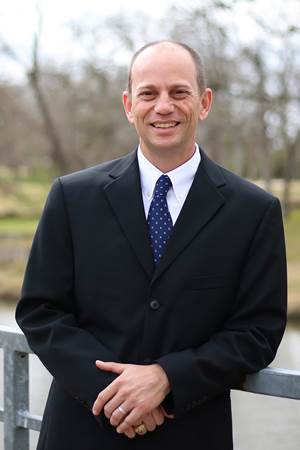 "One of the foundational elements of the water institute is being able to develop effective engagement with the water community," said Dr. John C. Tracy, TWRI director. "Kevin has such a tremendous reputation in Texas and such experience across the state, he is ideal to serve in this role as a strong link between the A&M System and the water resources community."
Wagner has more than 20 years of experience in watershed assessment and planning, stakeholder engagement and conservation practice research and education, including 12 years in management positions. He joined TWRI in 2005 as a project manager and was responsible for developing and implementing water-related research and education projects.
Through his years at TWRI, Wagner said he has seen water resources concerns evolve. For much of the last decade, his work mainly centered on mitigating bacterial impairments in water bodies. However, since the 2011 drought, his focus has shifted to include drought-related issues and water conservation.
"I'm excited about this opportunity to help better align the excellent water research and outreach programs throughout the A&M System with the needs of the state, nation and beyond," he said. "Water resources research and education are more critical now than ever before with water shortages and declining water quality being observed globally."
Wagner also serves as an adjunct professor in Texas A&M's Department of Soil and Crop Sciences and mentors graduate students in their water resources research. He helps teach the annual Texas Watershed Planning Short Course for water resource professionals from throughout the state and nation.
Prior to joining TWRI, Wagner served as nonpoint source team leader and assistant director of programs for the Texas State Soil and Water Conservation Board. He received his bachelor's degree in biology from Howard Payne University, master's in environmental sciences from Oklahoma State University and doctorate in agronomy from Texas A&M.