By Amy Kremen
Editor's Note: Amy Kremen is the project manager for the Ogallala Water Coordinated Agricultural Project (Ogallala Water CAP), funded by the U.S. Department of Agriculture's National Institute of Food and Agriculture (USDA NIFA). In this article written for txH2O, she provides an overview of and key take-aways from the Ogallala Water Summit.
Earlier this year, the NIFA-funded Ogallala Water CAP partnered with the Kansas Water Office to bring together more than 200 water management professionals from all eight Ogallala region states for the Ogallala Aquifer Summit. The main goals of this event were to:
build cross-state relationships among a wide range of water management stakeholders,
encourage information exchange, drawing heavily from and building on the experience and expertise of producers, and
identify opportunities for collaboration within and across state lines to boost the impact of efforts being made to help address the region's water-related challenges.
Assigned seating ensured that people representing different states and stakeholder perspectives would meet and interact. Panels, keynotes and facilitated workshops covered different aspects of "what's working" in agricultural water management within three main topic areas: producer practice, contributions from science and policy developments.
The Ogallala Water Coordinated Agriculture Project partnered with the Kansas Water Office to bring together more than 200 water management professionals from all eight Ogallala region states for the Ogallala Aquifer Summit in April 2018.
More information
Participants discussed practical aspects of agricultural water use in relation to different factors, including differences in evapotranspiration rates going from the Northern to Southern High Plains and variation in the aquifer's saturated thickness across the region.
At the summit's final capstone workshop, the expertise of participants was integrated with information shared at the meeting. Groups at the tables were tasked with identifying and prioritizing actionable, cross-state collaborative activities with the potential to benefit the Ogallala region long term.
Making the most sense (and cents) out of water conservation-oriented practices
The capacity to monitor and manage water use in crop and livestock systems is advancing rapidly, but adoption lags as producers and ag lenders weigh the potential benefits of integrating different technologies or crop/livestock management strategies in their operations and determine how they might pencil out.
Having opportunities to test out practices and technologies in a risk-free setting and learn from producer peers, tech company leaders and related Agricultural Research Service (ARS) are hallmark features of several excellent programs currently active across the High Plains region. These include the Texas Alliance for Water Conservation, Kansas' Water Technology Farms and the Testing Ag Performance Solutions program led by University of Nebraska-Lincoln Extension's West Central Research and Extension Center in North Platte. Steve Walthour of Texas' North Plains Groundwater Conservation District (NPGCD) presented on its Master Irrigator program. This 32-hour intensive irrigation education program is conducted over four one-day sessions and trains participants — producers, farm managers, crop consultants and others — in advanced conservation irrigation management and on water- and energy-saving conservation practices that can build soil health and enhance farm profitability.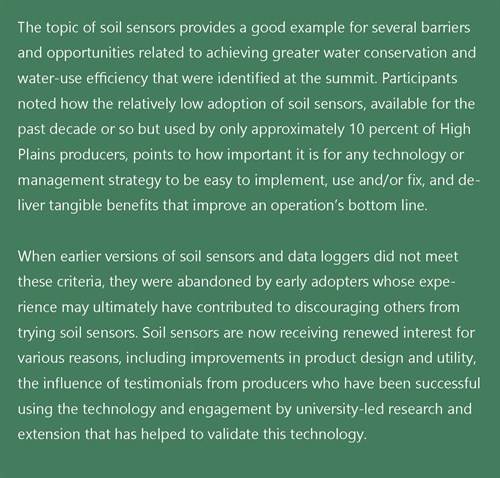 As a next step, a multistate working group met in September 2018 to focus on replicating and establishing Master Irrigator programs in other Ogallala region states. The group discussed how to adapt the baseline curriculum and other necessary criteria for establishing and sustaining a high-quality program based on NPGCD's insights gained and lessons learned in managing its program. This group also explored interstate collaborative opportunities to leverage cost-share funds to support producers who complete these programs.
It's never too early to train tomorrow's water leaders
High school student Grace Roth's stirring summit talk, "A Call to Action on Water Conservation," prompted discussion of the importance of offering young people training opportunities and enlisting their help in encouraging urban and rural shifts in mindsets and habits toward greater prioritization of water conservation and general improvements in water management. Participants noted how harnessing the energy, communications skills and natural motivation of young people to see their communities thrive long term could be very beneficial for the region.
Summit participants suggested building on and networking with already existing programs such as Texas 4-H2O Ambassadors and Kansas Youth Water Advocates to enhance professional development opportunities and support greater "water literacy" among high school students in the Ogallala region. This topic will be reviewed and action steps elaborated on as part of a "youth day" that will take place in conjunction with the fall 2018 Kansas Governor's Water Conference in Manhattan, Kansas.
Many partners but no single pathway for addressing water issues
Not everyone envisions extending the use of the Ogallala Aquifer to support irrigated agriculture indefinitely as being practical. In the Texas High Plains where the aquifer tends to be shallower, for example, some stakeholders believe it's imperative to focus on supporting a productive transition to dryland systems in anticipation of further aquifer level decline. Data shared by Jim Butler of the Kansas Geological Survey (KGS), however, indicated that producers may be able to prevent further aquifer declines in western Kansas by reducing their water use by about 30 percent relative to present levels.
Because water is so essential, achieving common goals related to water management involves the input and engagement of a wide range of stakeholders, including producers, tech company representatives, crop advisors, academics, and local, state and federal agencies, ag lenders, multinational companies, absentee landowners and others. Finding opportunities to keep getting people together and to develop a regionwide vocabulary is needed. This will increase the visibility and effective communication that goes beyond describing the serious water-related challenges faced by the Ogallala region and delves more into how these challenges are being addressed, since these approaches and solutions serve as examples and, in some cases, inspiration for others in the region. 
Going forward, participants stressed that finding ways to keep multistate conversations going is important. In academic and tech circles, this is currently happening with people inviting each other to give talks at field days, ag expos and other events. Planning is underway to hold a second Ogallala Aquifer Summit aimed at getting a broader circle of stakeholders, including ag lenders, crop consultants, energy companies, multinational companies and state entities focused on water quality and quantity, on the same page by exchanging information about water management challenges and solutions. Representatives from the Ogallala Water CAP team and the Kansas Water Office are also sharing what happened at the summit with a wider audience. A summit focused talk was well received at the American Water Resources Association's summer conference on "The Science, Management, and Governance of Transboundary Groundwater" in July 2018. Additional summit-related presentations to state-level water planning groups and at multistate meetings are planned.
While litigation and other disagreements over water rights and water management are inevitable, the concept of using agricultural water management as a tool to increase resiliency, flexibility and producers' capacity to mitigate risk is ripe with opportunity for cross-state exchange and engagement. A good example of this is discussions that touched on the increasing involvement of producers in "traceability" programs that reward them — and help buffer them somewhat from the impacts of market instability — for tracking their effective water management and stewardship of soil health. Other examples covered at the summit included limited irrigation crop insurance, splitting pivots, moving from static to dynamic irrigation scheduling and shifting attitudes away from maximizing yields to maximizing return on inputs used. All merit ongoing education and communication regionwide because of their important role in helping producers weather regional shifts in temperature and precipitation frequency and intensity.
Last thoughts on the summit
Summit participants unequivocally stated that local development and administration of water use-related policies is highly preferable to outside intervention from states, federal-level actors and other entities. They also noted, however, how important it is for policies, whether local, state or federal, to actually work in tandem to support on-the-ground practices effective at improving agricultural water management. Participants emphasized the importance of having good data on water use and water levels for effective management, both on the farm and for planning at the local, district, state and federal levels. One related topic deserving ongoing attention from Ogallala region stakeholders is the potential for water-use efficiency gains achieved in the future through successful implementation of technologies and other management practices to actually result in greater overall water use, rather than increased water conservation. Participants also stressed the need for local, state and federal support for research and educational programs focused on managing Ogallala water-related challenges, including expanding and building on the success of the ARS-funded Ogallala Aquifer Program so researchers based in Ogallala states in addition to Kansas and Texas can participate. There are many valuable activities and conversations to pursue to guide shifts in practice from today's status quo; as Butler of KGS noted during his presentation, "Heavy use of the Ogallala Aquifer has led to significant depletions. If we do nothing, we know where we're going to end up."
Visit the Ogallala Water website for the summit's report, recordings of the summit panels and media coverage. 
Authors
Guest Author
Amy Kremen