The Ogallala Aquifer is the largest aquifer in the United States and one of the largest in the world. It overlies 111.8 million acres in parts of eight states: Texas, New Mexico, Oklahoma, Colorado, Kansas, Nebraska, South Dakota and Wyoming, an area referred to as the High Plains. For more than 80 years, the aquifer has played an essential role in the economic development of the High Plains by supplying water for agriculture and municipalities. Irrigating crops with aquifer water began extensively in Kansas and Texas after the 1950s drought. Today, the aquifer supplies water for about a quarter of U.S. agricultural production and more than 40 percent of U.S. feedlot beef cattle. More than 95 percent of the water pumped out of the aquifer is used for irrigated agriculture. It also supplies drinking water for 82 percent of the people who live within its boundaries.
However, water table levels in some parts of the aquifer are declining and, particularly in the southern half of the aquifer, recharge is small compared to depletion. With the decline of the aquifer, many fear the decline of the sustainability and continued success of the region.
The Ogallala Aquifer Program (OAP) and the Ogallala Water Coordinated Agricultural Project (Ogallala Water CAP) are two U.S. Department of Agriculture (USDA)-funded projects that are examining ways to extend the life of the aquifer and sustain agriculture and the rural economy. The OAP, funded by USDA's Agriculture Research Service (ARS) since 2003, consists of research and extension teams from USDA, Texas Tech University, Kansas State University, West Texas A&M University and Texas A&M AgriLife Research.
The Ogallala Water CAP, funded by USDA's National Institute of Food and Agriculture in 2016, consists of faculty from Colorado State University, University of Nebraska, New Mexico State University, Kansas State University, Oklahoma State University, Texas Tech University, Texas A&M AgriLife Research, Texas A&M AgriLife Extension Service, Texas A&M Engineering Experiment Station's Texas Center for Applied Technology, West Texas A&M University and ARS.
txH2O asked Dr. Dave Brauer and Dr. Meagan Schipanski to talk about the Ogallala Aquifer Program and the Ogallala Water Coordinated Agriculture Project, their objectives, significant accomplishments and the future.
More information
txH2O asked the two projects' leads to talk about the projects, their objectives, significant accomplishments and the future. Dr. Dave Brauer, manager of the OAP, is the acting director for the Conservation and Production Research Laboratory in Bushland, Texas. Dr. Meagan Schipanski, an assistant professor in the Department of Soil and Crop Sciences at Colorado State University, serves as the Ogallala Water CAP co-director along with Dr. Reagan Waskom, director of the Colorado Water Institute.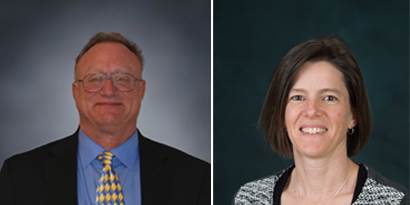 What are primary goals of your project and how do the two projects differ in their focus?
Schipanski: As a Coordinated Agriculture Project, our project specifically targets doing integrated research and extension across institutions to tackle a large issue or problem. So our goal is to foster innovative research and communications that leverages the expertise we already have and the partnerships we have with stakeholders across the state lines.
What we have been trying to emphasize is that what works in Texas may not work the same way in Nebraska, but there are lot of advantages to learning from each other that can spark new ideas, approaches or partnerships.
Brauer: The goals of the OAP were laid down by a federal appropriation bill and they are two-fold: to provide technology and information for water conservation for agricultural production and to provide tools and knowledge for scientifically based water policy development.
One of the big differences between the two projects is funding. The OAP began in 2003. We have had relatively stable funding since 2007-08. Having a stable funding source over a long period reaps certain benefits. It allows you to build teams. One of our priorities in OAP is that our investment in research and technology transfer activities is highly leveraged. Most of our funds do not go to new hires; they are targeted to take the existing infrastructures available at the research facilities at the participating universities and ARS and add a little to that so additional research can be done.
Dr. Bauer, the OAP has been funded for 15 years. What are the most significant outcomes from the project to date?
One of the biggest accomplishments is that we have really built some nice teams across the four institutions; two teams in particular are the economic assessment and impact team and the technology transfer team. Building these multi-institutional teams is important. For example, Kansas researchers came out with some decision support tools, and it became apparent that it would be much more time-effective if we adapted the tools from Kansas to Texas rather than creating our own. So there is a synergy. The problems are site specific, so if you are able to pull together and synthesize information on a technology across a gradient of 400 miles from north to south, you are adding real benefits for our stakeholders.
Another successful output is from the economic assessment and impact team. This group looked at the economic impact of various agricultural industries. They also looked at water use and water availability and the potential effects of changes in groundwater availability for those industries. They gathered information and put it in a package that gets updated regularly. The other thing they have looked at is if certain water policies are implemented, what is the effect and how resilient are our agricultural systems to changes in water availability?
On the more technical side, research and technology transfer of irrigation technologies have been a big deal. As water declines, we need to add water in the right area at the right time. Much technology has been tested, including a great interest in mobile drip irrigation systems. Data from OAP teams in Kansas and Texas have shown that those systems work and can save water especially in a dry year. In both Kansas and Texas, the use of plant- or soil-based sensors for irrigation scheduling is much lower than it is in Nebraska. Both the technology and technology transfer is needed to increase the use of sensors, and OAP has been on the forefront of that.
To address the challenges, we really need to think about how we view water both in the short term and, particularly, how we think longer term about conservation goals.
The USDA has funded these projects that focus solely on the Ogallala Aquifer. Why is the aquifer so important to warrant this attention by the agency and these universities?
Schipanski: The Ogallala Aquifer is such a critical resource that supports a large portion of U.S. agricultural production, both crops and livestock, as well as the communities that live above it. These water challenges are not unique to the Ogallala Aquifer so if we can figure out how to manage this shared resource, it will benefit other parts of the world and the United States that are facing similar water challenges. It is a complex problem. It is economics; it is a physical resource but it is also people's history, culture and community. That is part of why it is challenging and why it is so important to figure out solutions to engage people in these difficult conversations on how we take individual and collective actions to conserve groundwater.
Brauer: The Ogallala Aquifer area is one of the greatest agricultural production areas in the United States. Agricultural production, a mixture of both crop and livestock, accounts for more than 20 percent of agricultural output in the country. It is an integral part of the U.S. agricultural economy.
What are the specific agricultural challenges for this region now and as we move into the future?
Brauer: The problem with the challenges in the Ogallala Aquifer region is that they are very site specific. The amount of water in the aquifer before we started irrigating varied; the water demand varied. So it is really difficult to say what the challenges are for the region because of that. But, if we start to break the area down into subareas, then we can talk about some real specific challenges. A report in 2016 by David Steward of Kansas State University showed the projected changes in water and storage by state starting in 1900, or pre-development of irrigation, to 2100. Currently, Texas and Kansas have used about 40 percent of the water in the Ogallala underlying these states, compared to Nebraska that has used 1 percent. If you carry those trends out to 2100, Nebraska will still have over 90 percent of predevelopment water in storage. Kansas and Texas are going to be down well under 40 percent. So when we talk about the southern Ogallala region, the future challenge is going to be water availability. There will be places that don't have enough water in storage for the irrigation technology that we currently have. Other places will have some water but not enough to fully irrigate, and other places will have lots in storage. The challenge is having a suite of research and technology to address this site-specific water availability issue.
Schipanski: Groundwater is declining in the aquifer — not everywhere in the aquifer; there are places in Nebraska, for example, where it is not declining — but generally the aquifer is declining. Water quality is also becoming an increasing issue in many parts of the aquifer region. Warming temperatures, more intense rainfall and more prolonged droughts are predicted for the region; these are just going to exacerbate these challenges of maintaining the viability of our production systems as water becomes scarcer. The other challenges are more about the social and economic barriers to water conservation. These can include regional and federal policies and water laws as well as changing individual and collective mindsets. To address the challenges, we really need to think about how we view water both in the short term and, particularly, how we think longer term about conservation goals.
Because of current trends in climate and weather, more and more people are looking toward irrigation as essentially an insurance program to offset drought and high heat conditions.
Dr. Dave Brauer
Dr. Schipanski, the Ogallala Water CAP has been very busy in its short time of funding. What are the project's most significant accomplishments to date?
In terms of the science, we have engaged in synthesizing information across our team, both in terms of limited irrigation approaches and soil health science and how they relate to limited water systems. One of the most novel scientific outcomes from this project is that we are developing an ambitious, cutting-edge integrated modeling approach that is really stretching people beyond their normal disciplines.
We have our agronomists talking to our crop modelers talking to our economists and our groundwater modelers, trying to figure out how we can build a tool that will allow groundwater management districts to ask "what-if " questions, such as: "If we implement this policy or that practice, what are the impacts going to be on groundwater, crop production and economics?" We have made great headway in creating that model.
As far as outreach, we are a conduit for communications about the aquifer and have benefited from being a neutral party not linked to one state or region in particular. One of the most important outcomes so far is co-organizing the Ogallala Aquifer Summit with the Kansas Water Office in spring 2018 that brought together more than 200 ag water managers across all of the Ogallala states to learn about what is working and where cross-state communications and learning can move things forward.
How do you see your project addressing challenges going forward?
Schipanski: One of the key things we are trying to do is not only use cutting-edge science but at the same time work alongside producers and groundwater management districts to make sure that we are building approaches and tools that will help them determine their futures. It is important that we don't just do our science but do our science engaged with stakeholders, with back-and-forth communications, so what we are doing is relevant and actually useful to extend the life of the aquifer and help people identify transition strategies where groundwater is declining more rapidly.
Brauer: Challenges going forward are varied. Those of us working in the federal government are facing challenges from the administration and that affects how we operate and do business. Another challenge is OAP funding; although stable, it has not grown in 10 years. We have also seen real changes in how OAP funds were used over the last seven and eight years. Other challenges have been necessitated by changes in state budgets. Texas went through the recession later than most states but the state budget currently is in a bit of challenge because oil prices have dropped. This has really necessitated that a lot more of our OAP funds go to supporting long-term post docs rather than graduate students.
In terms of science and technology, we are always going to be changing and adapting and looking for what is best. The example I like to give is the research looking at leaf temperatures as a way to know when to irrigate. Researchers from ARS in Lubbock, Texas started this technology in the 1990s. It had to be hard-wired and was $20,000 per sensor. Similar sensors are now down to the $100-$200 range and can be integrated with Wi-Fi signal. So you never know, what seems unreasonable today will be easily implemented somewhere in the future.
Other agricultural regions are facing issues similar to those in the Ogallala region. What lessons can be shared with these regions?
Brauer: Issues regarding water availability for agriculture are worldwide. It is a sad commentary, but agriculture's return on water does not generate as much money as other water users do. Therefore, it is difficult for agriculture to compete with water users. A lot of the lessons we are learning in the Ogallala region can be adapted to other areas, especially other semi-arid areas. Because of current trends in climate and weather, more and more people are looking toward irrigation as essentially an insurance program to offset drought and high heat conditions. Because many areas are facing declining water availability issues, ideas on how we gather support among water users and get them to have a collective thought or action is important and could be helpful to other regions.
Schipanski: Within the United States, Arizona and California are experiencing similar issues but there are also areas in Australia, India and South America. In South America, countries are actually increasing their adoption of irrigation so maybe they can use our lessons learned to sustainably manage their water.
It is currently predicted that groundwater in parts of the aquifer will be at levels that will make it uneconomical to pump water for irrigation by 2050. What do you envision agriculture will look like at that point?
Schipanski: There are areas in New Mexico where we can already see the future a bit, and we are seeing people irrigating smaller parcels or moving to dryland crops or pastures. If they are moving to smaller parcels, they are looking at higher value crops. For example, in Texas there is increased wine grape production. As we look forward, producers are going to need additional income streams, so there has been some interest in wind energy and other potential income streams. Diversifying could help soften that transition.
There is a growing awareness of the importance of soil conservation and soil health as we move toward more limited water, so we need to think about how we manage our systems with lower water to make them more resilient in terms of crop rotations and pasture mixes. In other regions, such as some areas of Kansas, groundwater is declining, but they have enough remaining capacity and recharge that they could extend the timeline of the aquifer through the adoption of technology and efficient water management without drastic shifts to, for example, dryland agriculture.
Brauer: Changes in agriculture will be an incremental change. Some areas are going to be harder hit than others are. People are only going to give up irrigation, fighting tooth and nail. If producers think they can pump enough water to get their crop established, they are going to leave the irrigation system in place. We are going to see a gradual decrease in water application per irrigated acre. Eventually when they are unable to pump anymore — technology says at 30 feet of saturated thickness — my prediction is that a lot of the land will go into dryland production. If you have been farming irrigated acreage, you already have the infrastructure to dryland farm.
When we look at income on a county-by-county basis, the counties that have animal agriculture are going to be less affected by the decline in the irrigation because the receipts from animal agriculture are so much greater. There are quite a few counties on the Texas High Plains south of Lubbock where confined animal feeding operations are minor so as irrigation goes out in those areas, those farm economies are going to be hit the greatest.
Are there any other thoughts you would like to share with our audience?
 Brauer: What I want the readers to take home is that we need to have optimism; there are plenty of reasons from the past to have optimism. We are going to continue to find better ways to conserve water and use water wisely. We have challenges, but the tools are going to be developed to enable us to do a better and better job.
Schipanski: There are technologies and great examples of producers being incredibly efficient in their water use; however, efficiency can lead to more water consumption. So it is important to pair improvements in water-use efficiency with some agreed upon collective limits to achieve true water conservation. Our goal is that the Ogallala communities come up with their own solutions based on good science.
Authors
As the former communications manager for TWRI, Kathy Wythe provided leadership for the institute's communications, including a magazine, newsletters, brochures, social media, media relations and special projects.