By Leslie Lee
Lake Fork is one of Texas' most famous bass fishing destinations. Every year the East Texas reservoir hosts multiple professional tournaments and draws recreational fishing crowds most every spring and fall weekend.
When the Sabine River Authority created the lake in the early 1980s, standing timber was left in place on much of the flooded land, creating ideal fish habitat. In the three decades since, of the 50 biggest largemouth bass ever caught and recorded in the state, 33 were caught at Lake Fork — including the five biggest.
Texas Parks and Wildlife Department (TPWD) fisheries biologist Kevin Storey has helped maintain Lake Fork's fishing reputation for 17 years. Through every season and change, he watched the lake's water levels stay as steady as could be.
"Drought is not a pattern we're accustomed to seeing in East Texas," said Storey, who serves as inland fisheries management supervisor for TPWD's Tyler North District.
Lake Fork's conservation pool level is 403 feet above mean sea level, and since it filled in 1985, it has never been more than 8 feet low, according to U.S. Geological Survey data.
For a frame of reference for how widely other Texas lakes fluctuate — Lake Travis near Austin was at least 50 feet below its conservation pool level from 2011 to 2015. But with heavy rains in May and June 2015, it rose significantly, to only 10 feet below its conservation pool. In June 2016, it reached its flood pool stage and then remained full into the beginning of fall.
"Because of our higher rainfall amounts, we normally assume Lake Fork will remain stable and stay within 2 feet of its conservation pool," Storey said. "I've been in this job for a while now, and I can remember when I first started, if the lake was 2 feet low, anglers thought the world was going to end."
But when the intense statewide drought of 2011 set in, Storey saw the lake drop to 395.4 feet for the first time. It would remain more than 3 feet low until spring 2015.
How droughts affect fish
As a lake goes down, recreational users have to deal with a shrinking lake, but changing water levels can also change fish behavior. It is self-evident that when a lake lowers, there's a smaller pool of water for the fish to share, but less obvious effects also take place.
Competition between predators and prey can change as the amount of structures where fish can hide or hunt from changes. Largemouth bass and many other species use vegetation or other types of cover to hide behind while hunting prey.
I can remember when I first started, if the lake was 2 feet low, anglers thought the world was going to end.
"If you don't have either aquatic vegetation or structures in that deep water for habitat, then the predatory fish will be forced to adapt to a new environment without adequate ambush sites," said Steven Bardin, fisheries biologist and owner-operator of Texas Pro Lake Management. Bardin received his master's degree from the Texas A&M University Department of Wildlife and Fisheries Sciences in 2011.
"If that happens, then the predators have to change how they feed and what they're eating; if they are not able to adapt long-term, they may not survive," he said.
Toward the end of the most recent drought, Bardin observed that fish populations in many clients' ponds were clearly down. In a smaller amount of water and with less habitat, predatory fish had been able to consume many of the forage species and young fish.
Drought recovery leads to fisheries recovery
Although droughts do create smaller and less-productive lakes, low-rainfall periods can provide an opportunity for near-shoreline habitat to improve, said Dave Terre, TPWD chief of inland fisheries management and research.
"Picture this: say a lake goes down a couple feet every year for a long time — 10 or 15 years, getting down to 50-feet low," he said. "What's occurring during that time is growth of terrestrial plants around the reservoir.
"And then, if a hurricane system pulls up into the region or a flash flood occurs, all of a sudden the lake catches a lot of water, comes up 20 or 30 feet, then the lake inundates all that plant growth. Now you have a 'new lake' situation — all those plants and terrestrial growth, around the lake, all of that becomes habitat for fish."
And a 'new lake,' is a very, very good thing for anglers.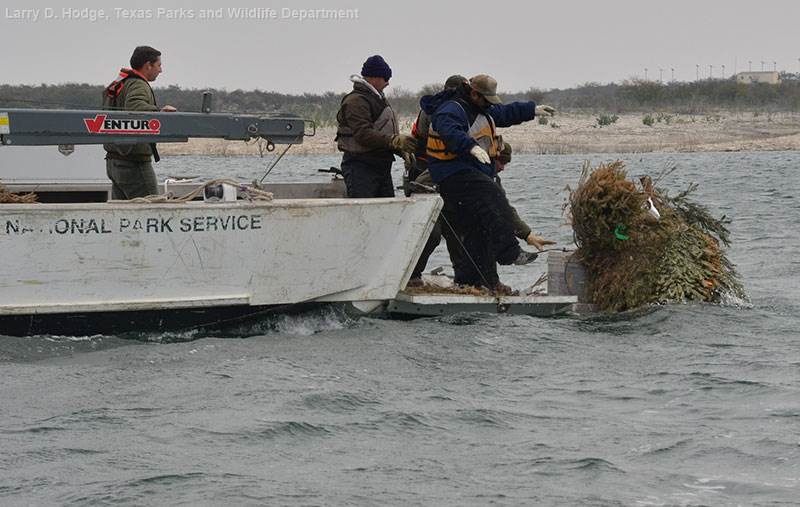 "It creates a huge boom in the fishing," Terre said. "It creates a boom in not only habitat but also in the forage species base — the fish that bass depend on for food sources."
Lake Fork has benefited from this phenomenon in 2015 and 2016. After decades of being perennially stable, the lake's low levels from 2011 to 2015 allowed terrestrial plants to grow on the shoreline and exposed sediment for the first time in its history.
Once the rains came and the lake rose back up, the fish population numbers quickly reflected the increased amount of aquatic vegetation and water. Aquatic plant cover allows fish to reproduce more often, survive at higher rates and grow faster.
"This spring we saw significant increases in the bass and sunfish numbers," Storey said. "There are more places for the fish to be and hide. We saw real increases in abundance in our samples, and other lakes around the state saw this as well."
TPWD staff at Lake Fork use electrofishing to sample fish and estimate population data. In electro­fishing, fish are immobilized temporarily by electric currents entered into the water, and then surveyors in a boat count and record the fish that float to the surface. Bardin saw high reproductive rates in his clients' fisheries this spring and summer, according to his data also gathered by analyzing electrofishing surveys.
"Many lakes filled up quickly, and all of a sudden we saw second and third reproduction — fish spawning multiple times," he said. "There's all this flooded terrestrial habitat, and the offspring survive really well."
Lunkers lag behind
Although fish populations can recover in a few months after lakes fill back up, occurrences of trophy bass catches don't necessarily correlate, the experts said.
"Your chances of catching a trophy bass can sometimes actually be greater when a lake is low," Terre said. "When a lake recedes, generally there's less cover in the lake, which initially means that the catchable fish in a lake become concentrated under a smaller amount of cover, making them more accessible."
Many lakes filled up quickly, and all of a sudden we saw second and third reproduction — fish spawning multiple times. There's all this flooded terrestrial habitat, and the offspring survive really well.
But, that good news doesn't last.
"Long term, dropping lake levels are not good for fish or for anglers, because survival and recruitment goes down, and therefore the supply of future trophy fish is smaller," Terre said. "Our Sharelunker Program has seen a down year the last couple of years, which doesn't surprise me. That's an effect of the prolonged drought we've now come out of."
TPWD's Sharelunker Program, currently sponsored by Toyota, encourages anglers who have caught largemouth bass that weigh 13 pounds or more to lend or donate the fish to TPWD for spawning purposes. The program is housed at the Texas Freshwater Fisheries Center in Athens.
Since 1986, at least one Sharelunker fish, and usually multiples of them, has been caught at Lake Fork. But so far in 2016, no such fish has been pulled from the lake.
"Soon, but maybe as long as a couple of years from now, I think we'll see things ramp up again statewide with Sharelunker catches," Terre said.
How lakes weather ups and downs
Statewide, TPWD uses three main fisheries management tools: enforcing regulations, stocking fish from the states' five fish hatcheries and enhancing habitat, Terre said.
Fishing harvest regulations limit the size and number of fish that can be kept by anglers and serve to protect populations.
"We use those strategies all the time — in drought and in high water," he said. "We want to make sure we have good adult populations of fish in our reservoirs, and then when the timing is right and the lakes come up, we'll have adult fish popula­tions there and they'll spawn."
TPWD actively assesses and works to improve fish habitat in many lakes.
"Most reservoirs in Texas were built in the 1950s and 1960s, so some of those reservoirs' habitats are now degrading," Terre said. "So, we are working on technologies to improve aquatic habitat in some of our aging reservoir systems."
Bardin said management techniques he uses in his clients' lakes and ponds include "everything from fish stocking to vegetation control to electrofishing, lake mapping, habitat restoration or setting up a fish feeding program.
"There is constant cause and effect in pond management — you have to be very aware of everything that you do," Bardin said.
Periodic draw-downs can actually be an effective fisheries management tool. Pumping down a pond can help manage vegetation or manipulate a fish population, he said. The important part is to make sure it's filled back up within a few months.
When ponds are down or in construction, Bardin plants aquatic vegetation, uses natural materials such as rocks or large logs, and installs artificial structures in ponds to ensure fish habitat and ambush cover during future droughts.
It is also critical that landowners prepare for floods, Bardin said.
"I had one client in Comanche County whose lake breached its dam this spring; so in a matter of hours, it went from a full lake to an empty lake," he said. "On the extreme side, if you're not prepared, floods can cause you to lose everything and start over. You must have the proper spillway or drainage pipe installed on the pond to be fully prepared."
Whether it's keeping a close eye on dam erosion or drought conditions, small fisheries require greater attention to detail than large water bodies, Bardin said.
"One of my favorite parts about private waters is that they are small; most of the time these fisheries are 100 acres or less," he said. "So, the smaller they are, the bigger difference small changes can make."
For a very small pond, even something as minor as which direction a landowner mows their grass can matter. If the grass clippings go into the water body, an algae bloom can result, Bardin said.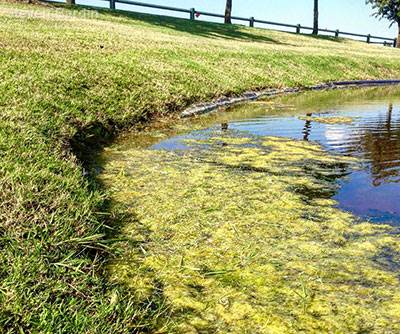 Another major concern to monitor for when floods rapidly fill a lake or pond is the possibility of it "turning over," which usually results in a fish kill, Bardin said.
"Fish kills are caused by changes in oxygen content, turbidity, pH and other water quality parameters," he said.
Especially if the lake is stratified, meaning the warm and cool water are separated, too much water flushing into the water body at one time can cause a turnover. Luckily this year's heavy rains came in early spring when waters were still cool, and Bardin observed few fish kills.
Monitoring pH and oxygen is a best management practice for pond owners, but especially when water levels go down and there is less water per fish. An aerator located at the bottom of the pond is an effective solution for this, he said. It creates more oxygen, makes more of the water column usable and prevents stratification.
"The good news is this spring I didn't have a lot of clients with breached dams or fish kills; instead we saw a lot of lakes' fish populations rebound very quickly," he said.
Decreased access hampers fishing
Another key to managing recreational fishing in drought-prone Texas lakes is maintaining their access points.
Preserving quality shoreline access is key for private ponds and lakes, and that involves thinking ahead about erosion and sedimentation risks. Especially in West Texas, where draw-downs are inevitable, Bardin recommends that landowners consider shoreline stability early and often.
"As that lake drops, how are we going to make sure that we don't get erosion and sedimentation from soil that is now exposed?" he said.
Long term, dropping lake levels are not good for fish or for anglers, because survival and recruitment goes down, and therefore the supply of future trophy fish is smaller.
When constructing a new pond in West Texas or other drought-prone areas, Bardin preemptively stabilizes the soil using ground cover, such as rock or other erosion prevention products well into the middle of the planned pond, even though that soil will sometimes be below 3-4 feet of water.
Terre and his inland fisheries colleagues usually focus on managing fish populations, but in 2011 their focus expanded to lake access.
"In 2011, about 25 percent of our Texas reservoirs were without public boat ramps because of the drought," he said. "A lot of our reservoirs in the state had dropped to a point at which ramps were high and dry, out of the water. So, when anglers can't even get their boats out on the water — that opened up our eyes here at TPWD."
Future water demands, future droughts and effects of climate change could all make lake fluctuations more frequent in Texas. To prepare for that, TPWD is working with the river authorities and other partners managing lakes to enhance boat ramps and access points so that they will still function in low-water conditions.
"Looking down the road, we will have more droughts, so we are going to be proactive about lake access," Terre said.
More than just a lake
One reason proactive lake management is important to the state is its huge economic impact. Freshwater sportfishing's total annual economic impact on Texas was estimated at about $3 billion in 2008. And, TPWD records show that the sales of fishing licenses and taxes on fishing-related items generate millions of dollars for conservation work.
When fisheries are managed well and can quickly recover from droughts once rains return, local economies benefit.
"We've got data on the economics of a fishery before and after one of these flood events," Terre said. "The economic value of the fishery just tripled, it was amazing. Direct expenditures by anglers just went through the roof."
He said it is important for Texans to know the economic impacts of recreational activities such as fishing and boating. TPWD studies show that Lake Fork alone generates in excess of $25 million a year for the local economy.
"Our fish populations were thriving this spring and summer," Terre said. "Unfortunately, the Texas Parks and Wildlife Department does not control rainfall or water releases in Texas. But, what we can do is collect information on how water level changes do impact fish populations, how important those changes are to recreation and how economically valuable recreation is."