In the early 1970s, when the environmental movement was just beginning and the U.S. Environmental Protection Agency (EPA) was newly established, a college student in Florida began studying environmental engineering and water issues. Little did he know that for the next 40 years he would live and work in the "flood mecca of the United States" and eventually be called "one of the world's foremost flooding experts."
Dr. Philip Bedient, Herman Brown professor of engineering in Rice University's Department of Civil and Environmental Engineering, has studied floods throughout the United States, developed a flood alert system for the 1,345-acre Texas Medical Center in Houston and organized a multiuniversity center focused on severe storms along the Gulf Coast. He also co-authored one of the top-selling textbooks on hydrology and floodplains.
Initially interested in the space program, he received his undergraduate degree in physics from the University of Florida. But after the 1969 manned moon landing, future space program funds and jobs became limited, so Bedient, who had been exposed to hurricanes and flooding growing up in Florida, switched to environmental engineering.
He received his masters and doctorate in environ­mental engineering from Florida. While there, he met his mentor, Dr. Wayne Huber, one of the main authors of EPA's Storm Water Management Model. "We joined forces and started studying rivers in Florida, and I never looked back," Bedient said.
In 1975, Bedient accepted a position at Rice, unaware of the water and flooding issues of his newly adopted state.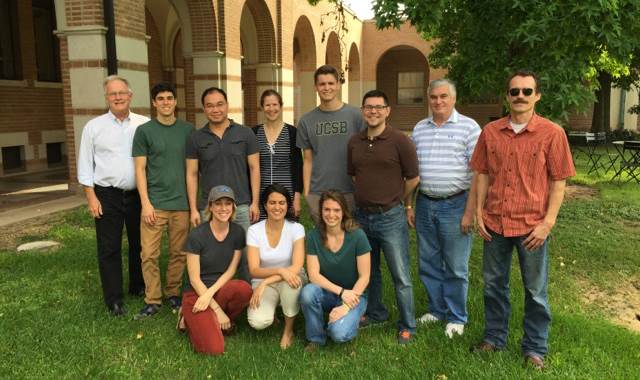 "As I was leaving Florida to come to Texas, I went into Wayne's office and said, 'I am really worried about going to Texas because Florida has so many wonderful water problems. I am worried there won't be any water problems in Texas,'" he said, breaking into a huge laugh.
He found plenty of water problems in Texas and more than plenty in the Houston-Galveston area.
Four decades of flood-related research
Bedient has built a career of teaching and research focused on surface water and groundwater hydrology, flood prediction and warning systems, and water quality assessments.
Upon arriving at Rice, he initially worked on water quality and stormwater studies for The Woodlands, a master-planned community north of Houston.
"It was a wonderful place to learn as a young professor," Bedient said. "There was a lot of field work and a lot of computer modeling going on at the same time."
During the 1990s, Bedient collaborated with colleagues from Rice and the University of Oklahoma to develop a flood warning system using radar rainfall for the highly urbanized, flood-prone area around the Texas Medical Center. The Flood Alert System is an integrated system using radar, rain gauge information, bayou stage data and hydrologic modeling to predict the overall threat of out-of-bank flooding of the nearby bayou. National Weather Service (NWS) radar data gives the system rainfall information every five minutes for every 1-square-kilometer area within the Brays Bayou Watershed.
"It's like having hundreds of rain gauges, so it's very accurate," Bedient said.
After Tropical Storm Allison flooded Houston in 2001, Bedient and his colleagues were funded by the Federal Emergency Management Agency to improve the alert system. The system is now in its third iteration and has also been adapted for use in other locations, including the Houston suburb of Sugar Land and by the Texas Department of Transportation.
"We predicted the 2015 Memorial Day flood more accurately and more closely than any other flood that we have worked on," he said. "We absolutely nailed it."
Solving problems through engineering
Bedient said he enjoys environmental engineering because it uses engineering to solve major societal and community problems.
"Floods and disasters bring a lot of data from which we are able to try to come up with better plans, better schemes and engineering solutions," he said. "You are working on infrastructure problems that people need to have solved."
We predicted the 2015 Memorial Day flood more accurately and more closely than any other flood that we have worked on. We absolutely nailed it.
One of the most devastating disasters to ever hit the United States and the New Orleans area in particular — Hurricane Katrina in 2005 — motivated Bedient even more to pursue his passion for solving engineering problems affecting society. The destructive storm caused more than $150 billion in damages and more than 1,800 deaths.
A month after Katrina, Bedient traveled to New Orleans.
"I never saw such devastation on Planet Earth — ever," he said. "You would drive 15 miles and not see a single house with any windows. It was unbelievable devastation. I got a real taste of severe hurricane surge damage and what it can really do to an entire community, and I brought those memories back to Houston."
Those memories led Bedient to organize a multiuniversity research and education center focused on severe storms and their impacts on the Gulf Coast.
Bedient recalled a meeting in which experts from universities along the Texas-Louisiana Gulf Coast were together discussing post-Katrina strategies. It was at this meeting that he realized the group of 15 experts should establish a research center. After approval by the Texas Legislature and the Governor, the Severe Storm Prediction, Education and Evacuation from Disasters (SSPEED) Center was launched in 2007. A small training grant from the state allowed the center to organize and host a conference.
Then the next one hits
A year after the SSPEED Center's launch, Hurricane Ike hit, causing an estimated $33 billion in damages in the U.S., with $29 billion Texas. More than an estimated 112 people died with 28 deaths in Harris County and 17 in Galveston County.
"Just like Tropical Storm Allison in 2001, Hurricane Ike in 2008 changed my life for the next decade," Bedient said. He determined to study the impacts of Ike and do everything possible engineering-wise to prevent similar future devastation.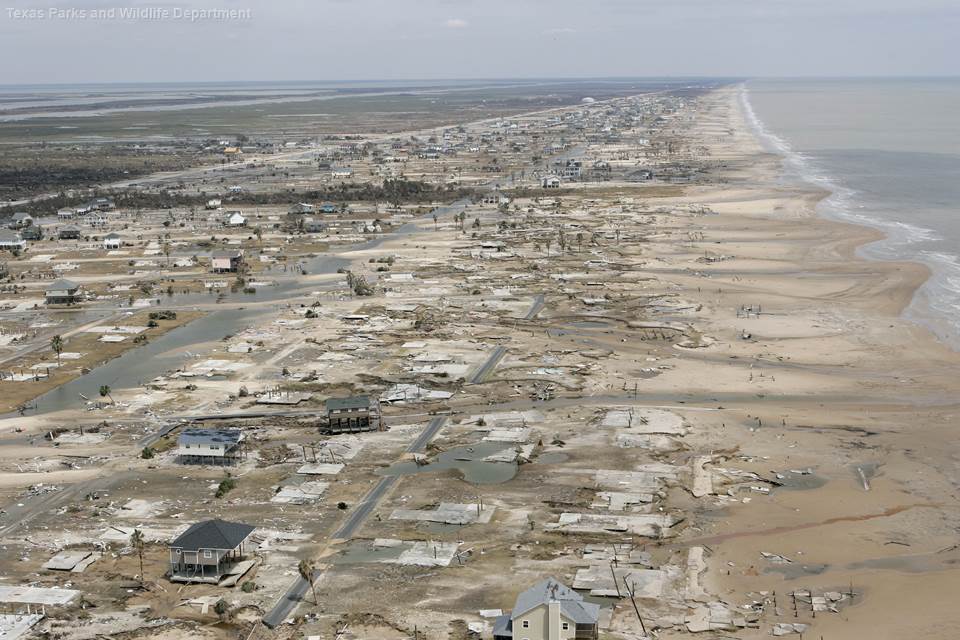 With the SSPEED team assembled, he went to the Houston Endowment with a $1.6 million proposal in early 2009, a little more than three months after Ike. The endowment funded the center and has continued that funding, which now totals $8 million through 2017.
The center is now composed of active university researchers from Rice, the University of Houston, the University of Texas, Texas A&M University, Texas A&M at Galveston and Louisiana State University.
Bedient, who serves as the center's director, said its early mission was focused on learning from Hurricane Ike; its first product was a book published by the Texas A&M University Press, Lessons from Hurricane Ike. Later the center became focused on mitigation strategies and plans on how to protect this vulnerable region, especially the Houston Ship Channel, from impacts of severe storms.
A regional surge protection system
One of Bedient's proudest and perhaps most rigorous endeavors is gaining steam, and he is most optimistic that it will succeed, while acknowledging it may take years to complete.
The SSPEED Center has been working to develop a regional surge protection system for the Galveston Bay area, the industrial complex along the Houston Ship Channel and the preservation of the barrier islands, which include Galveston Island and Bolivar Peninsula.
Its Houston-Galveston Area Protection System Phasing Plan recommends protection components that would be implemented in phases.
Phase I would provide the most protection for the least cost and includes a mid-bay storm surge gate across the Houston Ship Channel, in-bay containment berms along the east and west sides of the Houston Ship Channel, a Galveston levee, other small sand dunes and raising Highway 87 and Farm-to-Market 3005 to a 10-to-17-foot elevation.
Phase II includes building gates in the lower part of Galveston Bay and raising the Texas City levee.
Bedient said the team believes that some of the components can be built with state and local funding for about $3 billion, with some built as soon as within five years. But the proposed lower bay gates that would stretch across the 10,000-foot wide Bolivar Roads inlet will need to be a federal project, with a $5-6 billion price tag.
"Protecting the Houston Ship Channel is extremely important," Bedient said. "If we get a direct hit to the Houston Ship Channel, such as a 20- to 25-foot storm surge, you are looking at anywhere from $60 to $100 billion in damages and a major impact to the national economy with the ship channel down."
Bedient now leverages his years of research and experience to advocate for the protection plan by meeting with decision-makers, city and state leaders, industry professionals, Port of Houston authorities and others.
"We have done our job as researchers; now it is someone else's turn at the state or federal level to step in and begin to take this seriously. If we just sit and wait until the next big one, that is very fool hardy."
While he doesn't enjoy the hot Houston summers and vacations in Colorado or Florida when he can, Bedient said he is glad he decided to change from physics to environmental engineering and leave his native state for Texas and Rice.
We have done our job as researchers; now it is someone else's turn at the state or federal level to step in and begin to take this seriously. If we just sit and wait until the next big one, that is very fool hardy.
"What makes environmental engineering an interesting study for me is it combines the physics and the complex fluids with impact to society and impact to community. So it's a wonderful sort of area in which to learn and to make predictions with real-time forecasting.
"We try to help folks, and try to save lives. It's a very rewarding field."
Authors
As the former communications manager for TWRI, Kathy Wythe provided leadership for the institute's communications, including a magazine, newsletters, brochures, social media, media relations and special projects.