By Claire Corley
Texas water research is more than focusing on the here and now; it is about fostering the next generation and giving them resources to become leaders in the water industry. 
Each year, the Texas Water Resources Institute (TWRI) helps graduate students by funding research through two programs, the U.S. Geological Survey (USGS) Graduate Student Research Program and the Mills Scholars Program. 
Both programs allow students studying hydrology, water management or any other water-related field at Texas universities to receive extra help to finish their graduate degree. The USGS Graduate Student Research Program is supported by funding through the Water Resources Research Act of 1984, which provides federal funding to support water resources research, education and outreach activities of importance for the state, region and nation. 
TWRI is one of 54 institutes in the National Institutes for Water Resources supported by USGS. Because TWRI is Texas' water institute, the USGS grants are available to students at any university in Texas, not just Texas A&M University. 
"Nationally, when we get together as directors and organizations, one of our talking points is how this program has created the next generation of water leaders in this country and beyond," said Dr. John C. Tracy, TWRI director.
 Tracy said the USGS grant program is important to each state across the nation and is a unique program, giving states flexibility to address the most important water resource issues in their area.   
"The real brilliance of the program, and I think one of the reasons it still exists, is that it recognized that water resources issues tend to be specific to regions and locations," Tracy said.   
Each year, the Texas Water Resources Institute helps graduate students studying hydrology, water management or any other water-related field at Texas universities by funding research through two programs, the U.S. Geological Survey Graduate Student Research Program and the Mills Scholars Program. Some recipients have continued to study water research in Texas, some have left Texas for other locations across the United States, and others have taken their research internationally.
More information
TWRI also funds students through the Mills Scholars Program. This program is a permanently endowed fund at Texas A&M that was established in 1967 by Mills Cox, former chairman of the Texas Water Development Board.   
The endowment is in memory of his great-grandfather, W. G. Mills. Mills helped prepare the site for Gathright Hall, the original student dormitory and dining hall on the Texas A&M campus, in 1875. 
 The Mills program awards students scholarships to complete their studies in water-related fields. Unlike the USGS grants, students are only eligible if studying at Texas A&M, Texas A&M at Galveston or Texas A&M at Qatar.   
TWRI has awarded many scholarships and grants since both programs were established. The current programs began in 2001 by then Director Dr. Allan Jones and Associate Director Dr. Bill Harris. Since 2001, TWRI has awarded 126 USGS grants totaling $677,979 and 188 Mills scholarships totaling $353,770.
Some scholarship recipients have continued to study water research in Texas, some have left Texas for other locations across the United States, and others have taken their research internationally. Here are highlights from a few of these past recipients.
Karen McNeal: Geoscientist and Geoscience Education Researcher  
Dr. Karen McNeal received the Mills scholarship in 2004-2005 while studying geology for her doctorate at Texas A&M. 
McNeal said the scholarship allowed her to travel to Laguna Atascosa National Wildlife Refuge in South Texas to complete her studies looking at the soil and water content and how that varies in different soil types. 
After completing her doctorate, McNeal became an assistant professor in biogeochemistry at Mississippi State University's Department of Geosciences. She conducted research on soil and sediment profiles along the Gulf Coast where she investigated the impacts of coastal hypoxia, sulfide and mercury, and wetlands after the Deepwater Horizon oil spill. 
McNeal said she became successful with getting a variety of geoscience education projects funded while at Mississippi State and that ultimately took her to her next position. 
"It led me to North Carolina State University, where I decided to go 100 percent in the disciplinary geoscience education research," McNeal said. 
She took a position in global change education in the Department of Marine Earth and Atmospheric Sciences at North Carolina State. 
McNeal has since moved to Auburn University where she leads a discipline education-based research initiative in the College of Sciences and Mathematics.
"We are hiring disciplinary experts in all of the STEM departments within the College of Sciences," McNeal said. "This is a really exciting time for me to be part of creating a working group of faculty that have groups like myself within a disciplinary home department such as chemistry, biology, physics and geosciences." 
She said the work she does now is researching how people think, learn and understand the earth as a system and the various phenomena such as global climate change and other environmental impacts.
 "My research includes how to best communicate the science and teach effectively in the undergraduate classroom as well as outside the classroom," McNeal said. 
She currently teaches a climate change and society course and climate literacy communications course at Auburn.
Richard Hoffpauir: Water Resources Engineer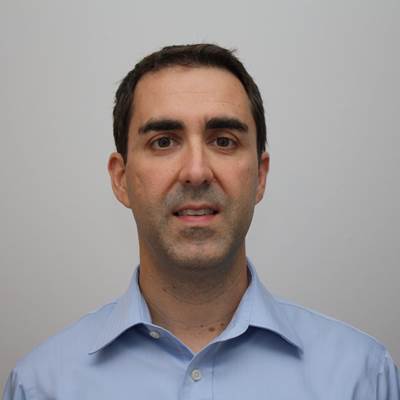 Dr. Richard Hoffpauir received both the USGS grant and the Mills scholarship in 2001-2002 while pursuing his doctorate in water resources engineering in the Zachry Department of Civil Engineering at Texas A&M.
His dissertation focused on development of new features of the Water Rights Analysis Package or WRAP. Hoffpauir said while completing his degree, he started to pick up consulting work to do water rights modeling around the state.
"From there I slowly built up a consulting business, and now I am a full-time consultant," Hoffpauir said, who still uses the WRAP model at his business, Hoffpauir Consulting, PLLC.
He said his primary and longest client is the city of Austin. "I do work directly for the city's water utility and legal departments. I help them with their existing water rights permits, permit amendments and water planning," Hoffpauir said.
He said he also provides analyses and decision-making support based on the results obtained from the water modeling system.
Hoffpauir said it is nice that the research he was able to complete with help from the scholarships turned into a career and the foundation of his business.
Andrew Karvonen:  International Professor 
Dr. Andrew Karvonen received his doctorate in community and regional planning from the University of Texas at Austin (UT). He received the USGS grant in 2006-2007 while completing his doctorate.
 Karvonen said his interest while at UT was focused on stormwater management, specifically in urban areas. Building upon this topic, he conducted a comparative study of Seattle and Austin and the politics of urban runoff.
After completing his doctorate, Karvonen moved to the United Kingdom in 2009 and started a post-doctorate in architecture at the University of Manchester.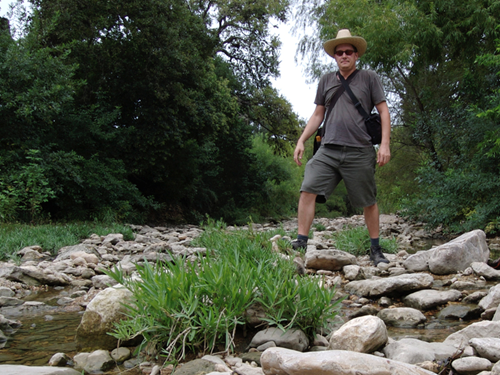 "I was still working on water issues but also did work on energy issues and housing," Karvonen said.  "I continue to have an interest in natural resources in cities and how nature, technology and society interact in cities."  
After working at the University of Manchester for seven and a half years, he moved to Stockholm, Sweden where he is now an assistant professor at the KTH Royal Institute of Technology.
Karvonen said his work focuses on sustainable urban development and smart cities. He said smart cities explore the idea that information and communication technologies are applied to urban infrastructure networks to make a city function more efficiently and effectively. Similar to the technologies on smart phones, they are applied on a much wider scale to optimize urban systems.
"We have Facebook on our phones and all kinds of speakers and crazy things in our houses that control our lights and even tea kettles," Karvonen said. "Now there is a push to do the same thing for cities."
 He said one of the most interesting things about his work as a professor is that universities are being challenged to explain how teaching and research benefit society.
"There is an idea that we need to demonstrate that university research is worthwhile, and I have made specific efforts to engage with nonacademic partners in both teaching and research," Karvonen said.
 He said having these research projects for his students outside the classroom encourages engagement and makes the research more real.
Karvonen said he appreciates the scholarship he received from TWRI because it helped him complete his doctorate degree and set him on a rewarding academic career trajectory. The same idea that the USGS grant increases engagement from all aspects of government and public sectors can be seen in the research Karvonen is doing today. 
Andres Salazar: Director of Water Resources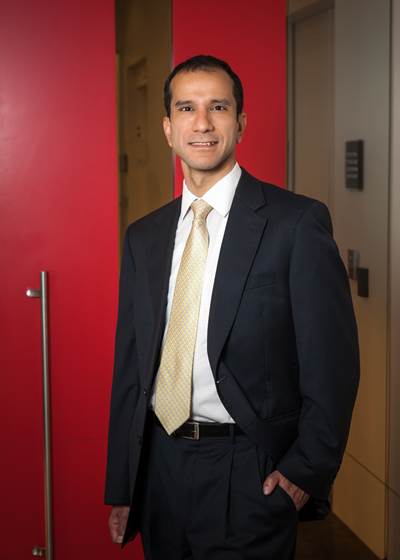 After moving from his home in Colombia, Dr. Andres Salazar came to Texas A&M to pursue his doctorate in civil engineering with an interest in water resources.
Salazar was a USGS grant recipient in 2001-2002, and he said the funding could not have been more helpful to him.
"Coming from another country with limited resources, you need help to get to the finish line," Salazar said. "Without the funding and support, I would not have been able to complete my studies."
He said the funds he received from the grant helped him decide on the topic of his dissertation and provided the financial support to continue his education in water resources. 
His dissertation was on water and reservoir management focusing on drought conditions. With the experience he gained through his doctorate, he started doing consulting work for a water supply and planning firm.
In 2007, he had the opportunity to be an adjunct professor at the University of Texas at Arlington (UTA). Salazar taught at the undergraduate and graduate level in water resources engineering.
He said that because of his experience working in the industry and as a consultant, he had insight into teaching how the courses applied to real-life examples.
Even though he was only able to teach at UTA for two years, Salazar said he enjoyed the experience.
"It was a very fulfilling opportunity to get to teach; I like teaching younger professionals in my field," he said.
Salazar started working at Walter P Moore, an engineering company in Houston, Texas, in 2009. His work focuses on hydrology and hydrology studies for essential flood rates and flood risk management, which, being in the Houston area, is very important, he said.
In his position as the managing director for water resources, he provides guidance on sustainability for site development, hydrology studies and water supply studies. 
Audra Morse: Engineer and Dedicated Professor
Dr. Audra Morse received a USGS grant in 2002-2003 while pursuing her doctorate in civil engineering at Texas Tech University.
Morse said the grant funded a project connected to water recycling in space. Her research interests have stayed the same since the project and include water treatment, wastewater treatment and wastewater reuse.
After graduating from Texas Tech, Morse remained there and moved through the ranks from assistant professor to associate to full for the Department of Civil and Environmental Engineering.
She also spent four years as associate dean for undergraduate studies for the Whitacre College of Engineering, where she was responsible for anything related to undergraduate students and programs.
She said she spent part of her time exploring ways to recruit students into engineering programs and specifically focused on underrepresented minority students.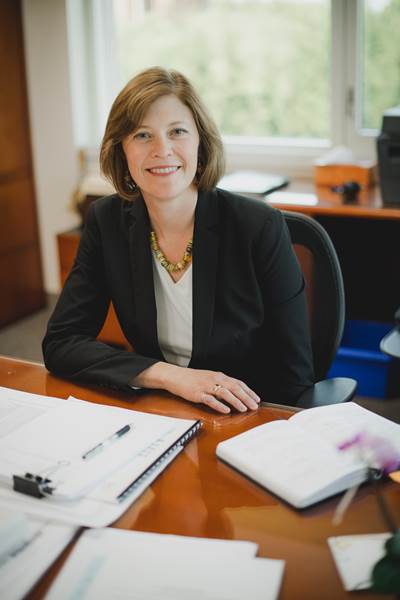 "I worked to create programs and activities that would help underrepresented students succeed but also approached it from an outreach perspective," Morse said. "How do we get them interested and help them think that engineering may be an interesting place for them?"
She is currently a professor and department chair for the Department of Civil and Environmental Engineering at Michigan Technological University.
Morse said her job is partly to manage the department and to look at where the department is going. She has been examining opportunities to grow the department's graduate programs and increase the Michigan Tech reach.
"We at Michigan Tech need to think about our influence and who we reach out to and recruit here," Morse said.
While her research lab has not started up yet, she said she looks forward to working with other researchers at Michigan Tech and researching membrane filtration and the fate of microplastics.
Vivekanand Honnungar: Engineering Consultant in Water Sector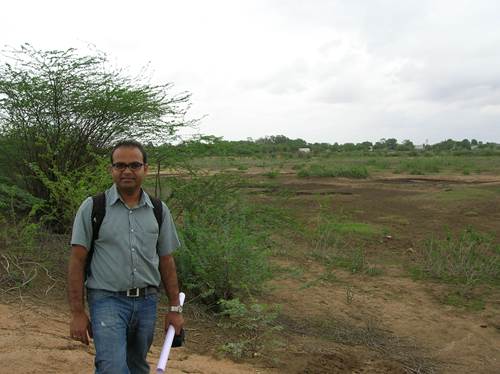 Dr. Vivekanand Honnungar completed his undergraduate studies in environmental engineering at the University of Mysore in India, and his integrated master's and doctorate in environmental engineering from Texas A&M University-Kingsville (TAMUK).
While pursuing his doctorate, Honnungar received a 2004-2005 USGS grant.
"For someone like me, who was in the beginning of his Ph.D. program, winning the TWRI grant added a good amount of confidence," Honnungar said.
He said the grant also gave him the opportunity to learn how to manage a research grant and multiple projects, while being a student.
Honnungar said his time at TAMUK exposed him to many different areas of water research. His doctoral research involved assessing groundwater vulnerability for 18 counties in South Texas.
After completing his doctorate, Honnungar stayed at TAMUK for one year, continuing to work on research projects ranging from groundwater modeling to agricultural runoff studies and assisting graduate students with their theses.
Honnungar moved back to India after completing his post-doctorate research. He said he has been fortunate enough to work on diverse projects in the field of water since then, such as climate change impacts on the availability of water in river basins, hydrological modeling of river basins and climate change impacts on sanitation and hygiene.
He is currently an engineering consultant in the water sector at CH2M HILL, a global engineering company, working to find solutions for urban water issues.
"All these years, I was very fortunate to collaborate with researchers from various institutes from different countries such as Norway, Australia, United States and India," Honnungar said. "My training at TAMUK has helped me to work on diverse water issues ranging from rural and urban drinking water to hydrological modeling to climate change. It's been a pleasant journey in water, so far!" 
Before the new programs
Prior to 2001, TWRI awarded the Mills and USGS funds to professors who then dispersed the money to students studying water research under them.
Dr. Marsh Lavenue, president and CEO of INTERA, a geosciences and engineering consulting firm located in Austin, Texas, received funding through the Mills program in 1984. Lavenue has been with INTERA since 1985 and has been president and CEO since 2008.
"Getting the TWRI Mills scholarship was absolutely fantastic and gave me the extra help needed to finish the semester," Lavenue said.
Dr. James Dobrowolski, national program leader for U.S. Department of Agriculture (USDA) National Institute of Food and Agriculture (NIFA), received funding through the Mills program while studying for his doctorate at Texas A&M.
Dobrowolski said he started at Texas A&M with plans to pursue a doctorate degree in ecophysiology, but plans changed after meeting the watershed professor, Dr. Wil Blackburn.
"He grabbed me and told me he had just the project for me," Dobrowolski said. "I ended up completing my degree under his tutelage and it changed my life."
After completing his doctorate in watershed science and management, Dobrowolski taught at Utah State University and Washington State University, teaching courses on hydrology, watershed management, rangeland management and much more.
His current position as national program leader for USDA-NIFA involves distributing funds through competitive and noncompetitive proposal review processes and managing a portfolio of research, education and outreach that exceeds $60 million dollars.  
Guest Author
Claire Corley