The Texas Water Resources Institute (TWRI) has helped study Texas' water issues through research, education and outreach for 65 years. Each year TWRI assembles its accomplishments and metrics to reflect the impact the institute and its collaborators and stakeholders have on making every drop count.
TWRI collaborates with all Texas A&M University System units engaged in water resources research and outreach, maintaining strong collaborations with the College of Engineering, the Water Management and Hydrological Science Program in the College of Geosciences, and the Institute for Science, Technology and Public Policy in the Bush School of Government and Public Service.
Restoring & protecting
As a leader in restoring watersheds, TWRI engages local stakeholders to improve water quality in Texas watersheds through watershed-based plan development and implementation assistance. In 2017 much of this work focused on the Matagorda Bay watershed along the Texas Gulf Coast. This 3,619-square-mile watershed supports a diverse and rich ecosystem that sustains a robust commercial fishery, abundant wildlife and more than 300 species of birds.
TWRI's water team worked with more than 250 local stakeholders and eight state or regional agencies in the Tres Palacios, Lavaca and Carancahua Bay watersheds, all of which had portions designated by the state as impaired because of elevated levels of bacteria. The Tres Palacios Watershed Protection Plan (WPP) and the Lavaca River WPP were approved by the state, and both are awaiting approval by the U.S. Environmental Protection Agency.
Sustaining & enhancing
TWRI began working with the U.S. Geological Survey Water Science Centers in Arizona, New Mexico and Texas, Arizona Water Resources Research Center and New Mexico Water Resources Research Institute in 2017 on the Transboundary Aquifer Assessment Program.
TWRI's scientists assessed hydrogeological transboundary linkages of aquifers and developed the first geological correlation of hydrogeological units between Texas and Mexico as well as a classification of aquifer potential. They began updating the numerical model of the Hueco Bolson Aquifer and integrated the first conceptual model of the Allende-Piedras Negras Transboundary Aquifer. The scientists also developed a ranking system to prioritize aquifers based on their level of "transboundariness," an approach that prioritizes transboundary aquifers using socio-economic and political criteria.
Engaging & educating
The Texas Well Owner Network (TWON), a joint Texas A&M AgriLife Research and Texas A&M AgriLife Extension Service program between TWRI and the Departments of Soil and Crop Sciencesand Biological and Agricultural Engineering, educates landowners about private well water testing, protection and management. TWON held 12 Well Informed screenings analyzing 670 samples and nine Well Educated trainings with 651 participants. TWON won the prestigious 2018 Texas Environmental Excellence Award in the education category.
The new Urban Riparian and Stream Restoration Program, in collaboration with AgriLife Research in Dallas, is bringing awareness, education and the value of riparian and stream restoration to urban areas around Texas with 15 workshops planned over three years.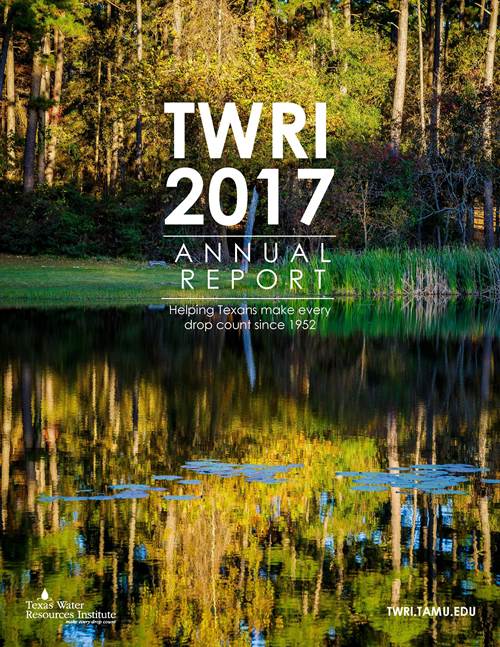 Expanding our impact
TWRI also expanded its impact by working with a new partner and leading a four-year grant to address water challenges in the Rio Grande Basin during 2017.
In collaboration with Oklahoma State University and Kansas State University, TWRI partnered with the U.S. Department of Agriculture (USDA)'s Southern Plains Climate Hub to host the Resilient Southern Plains Agriculture and Forestry in a Varying and Changing Climateconference in El Reno Oklahoma, at Redlands Community College. This 1.5-day conference, led by Dr. Ron Lacewell, Texas A&M Department of Agricultural Economics professor and assistant vice chancellor for federal relations, brought together 68 researchers, extension professionals and stakeholders from the Southern Plains region of Kansas, Oklahoma and Texas. Regional research and extension priorities were identified and a 10-year strategic roadmap developed for ensuring resilient agricultural and forestry systems in the face of varying and changing climatic patterns.
Through the Diversifying the Water Portfolio for Agriculture in the Rio Grande Basin project, TWRI is working with almost two dozen faculty, research scientists, extension specialists and graduate students at Texas A&M AgriLife Research and Extension Centers, departments in the College of Agriculture and Life Sciences, and the New Mexico Water Resources Research Institute at New Mexico State University. The project team is investigating alternative water sources, new crops, management practices and improved water conservation to sustain agriculture in the basin. The project is funded by a USDA National Institute of Food and Agriculture Water for Agriculture Challenge Area grant.
Read or download TWRI's annual report.
Authors
As the former communications manager for TWRI, Kathy Wythe provided leadership for the institute's communications, including a magazine, newsletters, brochures, social media, media relations and special projects.