Texas A&M has large presence at World Water Congress
Texas A&M University made a big impact at the five-day International Water Resources Association's (IWRA) XVI World Water Congress held last year in Cancun, Mexico.
Of the more than 1,100 participants representing 65 countries attending the Congress, more than 40 were from Texas A&M, many of whom presented papers.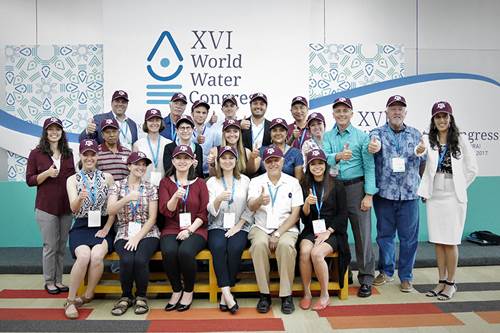 The World Water Congress draws water professionals from all disciplines — science and engineering, economics and policy, governance and law — as well as stakeholders and government officials from around the world to discuss and respond to global water management, security and accessibility issues.
Texas A&M School of Law Professor Gabriel Eckstein served as chair of the International Scientific Committee and as a member of the International Steering Committee for the Congress. Texas A&M participants included faculty and students from its School of Law, Water Management and Hydrological Science Program (WMHS), Bush School of Government and Public Policy, Texas Water Resources Institute (TWRI), and Departments of Biological and Agriculture Engineering (BAEN), Soil and Crop Sciences (SCSC), Ecosystem Science and Management (ESSM), and Recreation, Park and Tourism Sciences (RPTS).
"There are not many universities in the United States, let alone globally, that have the extent and the breadth and the depth of experts and professionals working on various aspects of water as Texas A&M has," Eckstein said. "Texas A&M has never been involved in an IWRA Congress at this level. I'm sure it was the biggest delegation at the Congress."
The Congress' theme of "bridging science and policy" highlighted the need to strengthen the linkages between scientific knowledge and decisionmaking at the policy and political levels.
IWRA organizes the triennial event, and the 2017 Congress was jointly organized by Mexico's National Water Commission and National Association of Water and Sanitation Utilities.
Dr. Rabi Mohtar, Texas A&M Engineering Experiment Station endowed professor in BAEN, served as the organizer and moderator of the high-level panel: The Water-Energy-Food Nexus. He also served as a speaker on the high-level panel: Integrated Water Resources Management.
Dr. Mary Hilderbrand, a Bush School senior lecturer; Dr. Ronald Kaiser, RPTS professor; Dr. John Tracy, TWRI director; and Dr. Rosario Sanchez, TWRI senior research scientist, each chaired a regular session at the Congress.
Other Texas A&M faculty who presented papers included Eckstein; Kaiser; Dr. Rudolph Rosen, director of the Institute for Water Resources Science and Technology at Texas A&M-San Antonio; Dr. Zhuping Sheng, professor in BAEN and resident director at the Texas A&M AgriLife Research and Extension Center in El Paso; Dr. Kevin Wagner, former TWRI deputy director; and Dr. Diane Boellstorff, SCSC associate professor.
Students presenting included Lindsey Aldaco-Manner and Laura Rodriguez Lozada, WMHS graduate students; Man Yang and Sydney Weland, former WMHS graduate students; Lindsay Sansom, doctorate student in ESSM; Brett Miller, School of Law graduate; Jessica Foster, School of Law graduate and former law research associate; and Bassel Daher, BAEN graduate student.
Sessions covered a diverse set of topics such as integrated water resources management, sustainable development goals, water security, and water policy and governance, among many other topics.
The Congress developed the Cancun Declaration. Linked to a United Nations initiative known as the 2030 Agenda for Sustainable Development, the Cancun Declaration is a four-point call to action outlining how Sustainable Development Goal 6 of the agenda, which calls for the "availability and sustainable management of water and sanitation for all," can be attained.
This story used information from Texas A&M School of Law news stories.