Dr. Virender Sharma, professor in the Texas A&M School of Public Health, has spent most of his research life investigating the abilities of a naturally occurring element — iron — to work wonders in cleaning up water and the environment.
By manipulating the chemical composition of iron, Sharma has produced research that demonstrates ferrate, a type of supercharged iron, can be used as a disinfectant and oxidant to inactivate bacteria and viruses and remove antibiotics, pharmaceuticals, toxic metals and other harmful pollutants from water.
Sharma, director of the public health school's Program for the Environment and Sustainability, has conducted research on ferrate for almost 30 years. With more than 320 publications, two patents and eight books authored or edited, Sharma is the most published and cited ferrate researcher in the world and is recognized as the leading expert on ferrate research.
Sharma believes that the use of this simple, abundant and environmentally friendly element can help save lives by providing clean water, and he is passionate about researching and telling others about its properties. That, he says, is his life's mission.
The chemistry of ferrate
Understanding his research takes a brief review of chemistry. Chemical elements have atoms, and each atom is composed of a nucleus that contains neutrons and protons with electrons orbiting the nucleus. Varying the number of protons or electrons changes the composition and properties of the element. If electrons are removed, the element becomes positively charged.
When two electrons are removed from the iron atom, ferrous ion is produced; three removed produces ferric ion. In most of Sharma's research, he has removed six electrons from iron, creating iron (VI), commonly called ferrate.
Because ferrate has lost some of its electrons, Sharma said the ferrate is "hungry for electrons," or looking for another chemical to take electrons from. Ferrate oxidizes, or as Sharma described it, is "tricked" into "taking" electrons away from other chemicals, changing them into inactivated forms or different products, which are not harmful to humans or the environment.
Dr. Virender Sharma, professor in the Texas A&M School of Public Health, has spent most of his research life investigating the abilities of a naturally occurring element — iron — to work wonders in cleaning up water and the environment.
More Information
Want to get txH20 delivered right to your inbox? Click to subscribe.
Removing pharmaceuticals from our water supply
Sharma has focused part of his ferrate research on finding ways to remove antibiotics and other pharma­ceuticals from the country's water supply because, he said, it is a critical problem.
"It is critical because we produce and consume several billion pharmaceuticals a year in the United States," he said.
About 60% of those pharmaceuticals are not metabolized by the human body and are excreted in urine into the nation's sewage system with many ultimately finding their way into the environment.
While these leftover chemicals can affect the ecological health in rivers and streams, Sharma said they can also potentially affect human health because the water can become a source for drinking water. Of particular concern is antibiotics' ability to potentially create antibiotic-resistant bacteria and genes, one of the biggest problems of the century, according to the World Health Organization.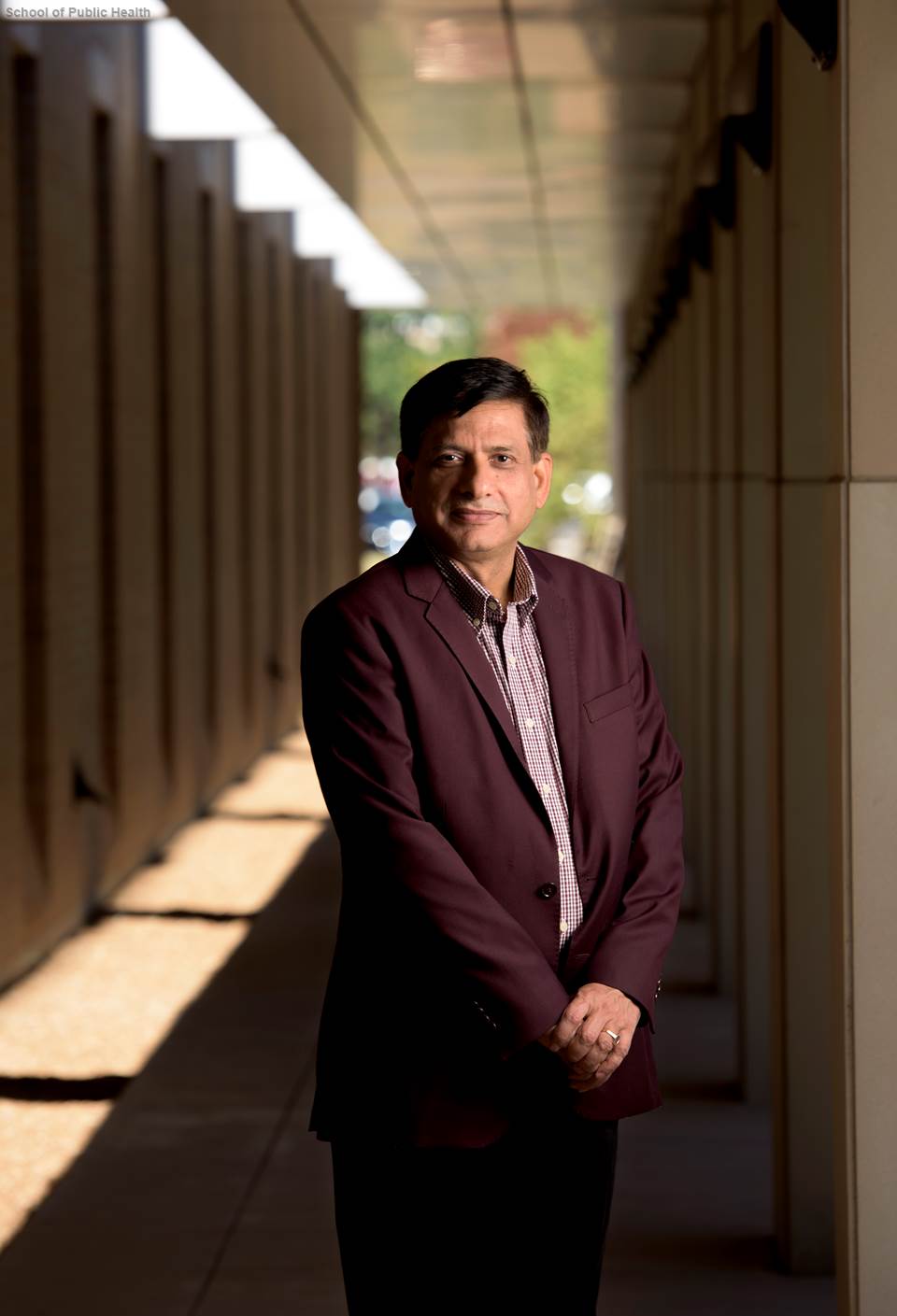 Sharma said most wastewater treatment plants were not constructed to remove the large amounts of pharmaceuticals found in water today, so they are released into the environment. In addition, chlorine has been used for so long in drinking water treatment systems that bacteria are resisting its disinfection properties.
"We need to find some new ways to treat pharma­ceuticals in water as well as solve the problem of antibiotic-resistant bacteria and genes," he said.
In his research, Sharma has shown that ferrate is able to help solve these problems.
"A wide range of micropollutants, such as endocrine disruptors, antibiotics, beta-blockers, antidepressants and cosmetic products commonly found in drinking water resources and wastewater effluents, can be efficiently oxidized by ferrate on a seconds-to-minutes time scale," Sharma said.
Ferrate's newest uses
In yet another refinement of his ferrate research, Sharma has modified the chemistry of ferrate to create activated ferrate, which makes it more reactive with other pollutants or chemicals. This activated ferrate not only increases how rapidly it can remove pharmaceuticals and other organic pollutants but also increases the percent of pollutants removed from water.
Other promising discoveries include the possibility of using ferrate to remove pharmaceuticals in urine.
Sharma said urine contains high concentrations of ammonia, chloride and bicarbonate, which may hinder the wastewater treatment process. While other oxidants react with these constituents, the environmentally friendly oxidant ferrate doesn't react much with them, which makes ferrate free to attack the pharmaceuticals in the urine.
The research also found that the bicarbonate ion, which occurs naturally in water, actually enhances, instead of hinders, ferrate's degradation of some pharmaceuticals.
Degrading pharmaceuticals in urine, Sharma said, would be an efficient way to reduce the harm of pharmaceuticals excreted to the environment.
"Also, to the best of our knowledge, the finding of the bicarbonate enhancement effect during ferrate oxidation is among the first (research to identify and analyze this relationship)," he said.
Sharma has also found that if the six electrons get converted to three electrons in ferrate, it allows the ferrate to remove toxic metals, such as arsenic, present in the water.
Using ferrate to manage disinfection by products
Sharma is also investigating the use of ferrate to manage disinfection byproducts (DBPs) during drinking water treatment.
Disinfectants commonly used by municipal water utilities to purify drinking water — chlorine, chloramine and ozone — can react with inorganic and organic chemicals to produce potentially harmful DBPs. The U.S. Environmental Protection Agency regulates 10 DBPs, including trihalomethanes (THMs) and haloacetic acids (HAAs), though there are thousands of DBPs. Research indicates that DBPs can cause serious health risks to humans, including being linked to bladder cancer and liver, kidney and central nervous system problems.
In its role as a disinfectant, Sharma said, ferrate makes the water less toxic because it minimizes the formation of DBPs.
Transferring to real applications
Before Sharma could use his supercharged iron in real-world applications, he had to stabilize the laboratory ferrate, which is generally solid. Sharma worked for years to develop stable liquid ferrate, and Sharma and Texas A&M University were recently granted a U.S. patent for this liquid ferrate.
Through a National Science Foundation Innovation Corps program grant, Sharma explored the feasibility of using liquid ferrate as a spray disinfectant on hospital surfaces. He is now working with a private company to bring it to the market.
He believes applications in other areas could become a reality in the near future. Sharma is also working with a company to test the use of ferrate to remove organic phosphate in water, which contributes to algal growth.
His path to ferrate research
His path to ferrate research began in a roundabout way. While conducting his doctorate work at the Rosenstiel School of Marine and Atmospheric Sciences at the University of Miami, he studied the chemistry of the ocean. With research supported by a national funding agency, he investigated the interac­tions between metals in the ocean.
He completed a postdoctorate at Brookhaven National Laboratory, where he began looking at chemical reactions in the human body.
While a faculty member at Texas A&M University-Corpus Christi from 1992 to 1999, Sharma said he realized that he was more interested in becoming an environmental chemist. He decided to study ferrate outside the human body. He served on the faculty of the Florida Institute of Technology from 1999 to 2013 and came to Texas A&M in 2014.
I want to see real application. I made it a mission of my life now. I wake up every day, saying 'saving lives, even one life, is my mission.'"
For his years of pioneering work on ferrate, Sharma has accumulated a long list of accomplishments. He is a Fellow of the Royal Society of Chemistry and was named 2019's Outstanding Distinguished Scientist by Sigma Xi, Texas A&M's research honor society. He has received the Certificate of Merit Award from the Division of Environmental Chemistry of the American Chemical Society and a President's Interna­tional Fellowship awarded by the Chinese Academy of Sciences. He is among the highest cited researchers in the field of environmental science.
With all the articles published, conferences spoken at and students taught, Sharma is passionate about seeing ferrate used as a disinfectant in drinking water treatment and hospitals and to eliminate emerging contaminants and reduce DBPs in water treatment as well as other applications.
"I want to see real application," he said. "I made it a mission of my life now. I wake up every day, saying 'saving lives, even one life, is my mission.'"
To read more detailed articles of Sharma's research, visit: https://vitalrecord.tamhsc.edu/faculty/ virender-sharma/.
Authors
As the former communications manager for TWRI, Kathy Wythe provided leadership for the institute's communications, including a magazine, newsletters, brochures, social media, media relations and special projects.