One of the wonders of Texas is its agricultural abundance. However, because rainfall cannot meet the needs for dryland farming, farmers along the border rely on surface water from the Rio Grande to make up the difference. But this supply of water is dwindling.  
Rio Grande water demand for municipal use is on track to increase as the population grows and climate change threatens the net availability of the water in the river. As the water continues to be spread thin, the districts have less water to allocate for agricultural use. This puts pressure on agricultural water users to reduce water waste in their irrigation practices.  
In addition to water availability, the water delivery system is part of what makes irrigation in the valley a "strange creature" said Ray Prewett, an agricultural issues consultant. Unlike most irrigation systems in Texas, very few farmers along the Rio Grande own individual water rights. Most of the water is owned by irrigation districts that manage and distribute the water for urban and agricultural use.  
Tom McLemore, general manager of the Harlingen Irrigation District, explained that to irrigate, farmers must contact the irrigation districts and request a water ticket.  
"So normally a farmer walks in on a Monday and says, 'I need to buy 40 acres worth of water, and I want to irrigate it next Friday,' then we can order the water that Monday to be delivered for us to pick it up out of the river on Friday."
This system requires careful planning for the growers and districts. 
"We try to anticipate what they're going to need as much as possible, but sometimes we get it wrong, and it's hard on the farmer whose crop is burning up and he forgot to order water," McLemore said. 
Estimated reading time: 8 minutes
Water availability and delivery logistics dictate irrigation practices along the Rio Grande. In a situation where unprecedented urban growth in the area is putting larger demands on a dwindling resource, irrigators must find ways to use less water.
More Information
Want to get txH20 delivered right to your inbox? Click to subscribe.
"It's not an immediate turn of the switch like if you had a groundwater well, and that makes a big difference in what the folks down there can do," Prewett said. 
Despite these unique obstacles, improvements in both water delivery and on-farm irrigation techniques have increased water sustainability practices in the Rio Grande Valley. 
It's not an immediate turn of the switch like if you had a groundwater well, and that makes a big difference in what the folks down there can do.
One effort that significantly boosted water-saving practices in the valley was the Rio Grande Basin Initiative (RGBI), a federally funded, collaborative outreach project by Texas A&M AgriLife Research, Texas A&M AgriLife Extension Service and the New Mexico State University College of Agriculture and Home Economics from 2001 to 2013. The goal of this program was to address present and future water demands in the Rio Grande Basin. 
One example of this project was the canal lining evaluation project. Canal lining is a technique used to prevent water loss from seeping into the soil by lining the base of the canals with synthetic fabrics, concrete or both.  
In 2005, RGBI engineers began evaluating the durability, efficiency and long-term viability of several of these liners. They determined that the best lining system incorporated both synthetic fabrics and overlaid concrete. In the 2010 Joint RGBI Annual Conference, RGBI researchers reported that using this lining reduced water losses by 94%. The engineers who worked on this evaluation also helped irrigation district managers in the valley select, install and maintain these canal liners.  
Some farmers have adopted a similar approach and are even doing away with on-farm head ditches entirely by using polypipe to get water directly to the furrows.
"Just like we are piping in the canal, farmers are putting their water in a polypipe because they too can have and have had breaks in their own ditches to their irrigation," said Sonia Lambert, general manager for Cameron County Irrigation District No. 2. 
Polypipe is a flexible plastic pipe that wraps around the farm like a long garden hose and the farmers can "poke holes" where they want the water to come out. Using this technique, farmers can direct the distribution of water flow in their fields.  
We try to anticipate what they're going to need as much as possible, but sometimes we get it wrong, and it's hard on the farmer whose crop is burning up and he forgot to order water.
The alternative to using polypipe is holding water in earthen ditches carved around farms. To irrigate, farmers transfer this water onto crop rows using siphon tubes. This practice is vulnerable to water loss from percolation and overflow if canal levels fluctuate. 
The Texas Water Development Board (TWDB) recommended on-farm canal lining in their "Best Management Practices for Agricultural Water Users" report. This report was included as an educational resource to the Diversifying the Water Portfolio for Agriculture in the Rio Grande Basin, a Coordinated Agriculture Project (CAP). This program is funded by the U.S. Department of Agriculture's National Institute of Food and Agriculture and tries to increase water sustainability in the valley through water-saving educational resources for farmers to improve irrigation techniques. 
Using polypipe complements other sustainable irrigation practices, like narrow border flooding. Compared to traditional pan flooding, which completely floods rows of crops, narrow border flooding in citrus farming targets the flow of water directly into the root zone. 
"It's pretty simple, which is why it's caught on quite a bit. You just put up a dike and you run the water down where the trees are, so you don't waste a lot of water in the middle of your grove," Prewett said. 
For citrus growers, narrow border flooding not only saves water and reduces costs, but also produces better fruit. The Texas Project for Ag Water Efficiency, a water conservation program funded by TWDB from 2005 to 2015, demonstrated that narrow border flooding uses one-third of the amount of water and can double the economic value of citrus crops compared to pan flooding.
Polypipe and narrow border flooding can improve water sustainability for surface irrigation. Lucas Gregory, Ph.D., Texas A&M AgriLife Research assistant director at the Texas Water Resources Institute (TWRI), explained that although drip irrigation is often considered the "holy grail of water conservation," flood irrigation remains the most common irrigation system in the Rio Grande Valley. The high cost of drip usually outweighs its water-saving benefits for growers in the valley and is just not feasible for each farmer.
"It's a challenge because our districts were designed to deliver a large amount of water over a short period of time, but a drip irrigation system requires small volumes of water over an extended period of time," McLemore said. 
Despite this, a few growers, especially citrus and vegetable farmers, in the valley have shifted to drip because it gives farmers more control over their water supply. 
"It's not as much for water saving as it is for timing application," said Sonny Hinojosa, general manager of Hidalgo County Irrigation District No. 2. "This district is not low on water, but we are still seeing more and more drip coming in because the farmers appreciate the precise application of water to that individual plant."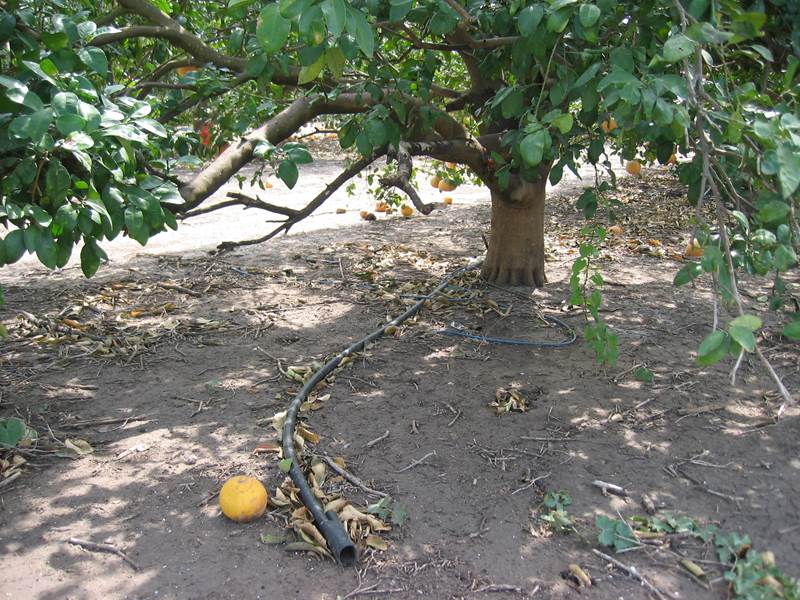 The Texas A&M Kingsville Citrus Center has started to apply drip irrigation to several of its citrus groves. The researchers found that using drip irrigation has saved them up to 25-35% of water use and also gave the farmers more control of the nutrient supply to individual plants and reduced weed-related labor costs. 
The best citrus outcomes, however, occurred when they used drip irrigation in combination with other irrigation techniques, including raised beds and plastic permeable tarp. The combination of these irrigation techniques yielded fuller citrus trees compared to those without raised beds or tarp. 
The raised beds and tarp field design demonstrated in the Citrus Center study can also be adapted to surface irrigated farms to improve water efficiency. In surface irrigation, soil and potential diseases can be picked up by water as it moves down the field. Raised beds covered with tarp can help protect the trees by preventing water from touching the tree trunk. 
Using tarps also helps reduce evaporation, which is triggered by particularly high winds and temperatures in South Texas. 
When it comes to choosing an irrigation system, "it really comes down to how good you are at managing the crop you have, with the water you have, and the information you have," said Dana Porter, Ph.D., AgriLife Extension agricultural engineering specialist at the Texas A&M AgriLife Research and Extension Center at Lubbock. 
It really comes down to how good you are at managing the crop you have, with the water you have, and the information you have.
Lambert says the next steps to improve water conservation in the valley should be that everyone is on board with the current water saving efforts. "Still not everyone is using polypipe, and there is still some work to be done to get to that point," she said.  
"We need to be better stewards of the water and it's one of the situations where it's hard to get people to shift gears if they've been accustomed to doing it this way for all the other years," Gregory said. 
Authors
As a communications intern, Ava helped write and edit for TWRI publications, manage social media accounts and assisted the communications team with various projects.